Welcome to September! We can't believe how fast the summer has flown. Some kids are in school already, others don't start until after Labor Day – but in any case, the lazy days of summer are soon to be behind us. Unless you are in the Southern Hemisphere, of course, in which case you are looking forward to summer. But September is bound to be a busy month, no matter which part of our globe you call home.
September means back-to-school for many of our readers. We have so many resources to share, we've made a list of them for you here: Back-to-School Resources from Surfnetkids and SeasonalFun.com.
Did you know that September is Library Card Signup Month?
Visit Surfnetkids Favorite Library Resources.
Play a Romantic Librarian Game!
Watch a Video About Book Dominoes at the Seattle Public Library.
Enjoy a Library Coloring Page.
The official end of summer in North America is Labor Day (September 1, 2014).
What is Labor Day About, Anyway?
Some Back-to-School Quotes for Labor Day.
Have a Back-to-School Party on the Long Weekend!
We remember 9/11 like yesterday. How do we share the memory of September 11, 2001) with the kids? Here are some September 11 resources from Surfnetkids.
The days are getting shorter … in the Northern Hemisphere, they meet each other at the Fall Equinox (September 23, 2014). The long dark nights are coming!
Why Do We Have Seasons? Barbara's Favorites.
Need to See Some Fall Foliage? Enjoy!
Try an Autumn Jigsaw Puzzle.
Dress Up a Lovely Autumn Fairy.
Enjoy Some Autumn Coloring Pages.
Jews all over the world will observe Rosh HaShanah (September 25-26, 2014).
What is Rosh HaShanah About?
What Should We Eat on Rosh HaShanah?
Hear the Shofar Blast! [VIDEO]
Enjoy Some Rosh HaShanah Coloring Pages.
Enjoy these last days of summer as we move into autumn and winter … and we'll see you on the Net!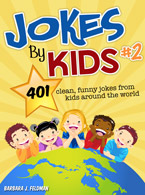 Jokes By Kids: Volume 2 includes 401+ clean, funny jokes from kids around the world. Now available in Kindle format. Don't have a Kindle? No problem! A free Kindle app can be downloaded for your computer, tablet, iPad, iPhone, Android or other smart phone. These jokes will be great fun for long car rides, the dinner table, the classroom, scout troops, birthday parties or anywhere family is gathering. And when you have Jokes By Kids: Volume 2 on your phone, you can whip it out whenever the occasion calls for a little laughter! Just $2.99 and available for instant download.