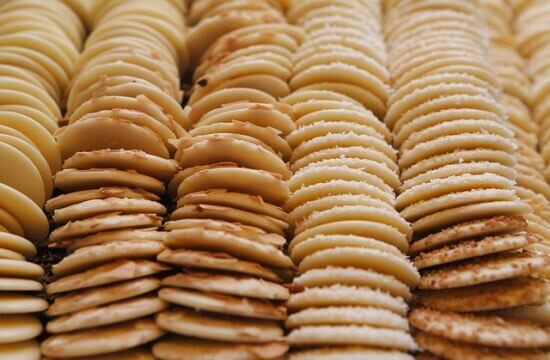 These aren't sugar cookies, but they're even better!
Cookies:
2 cups all-purpose flour, plus additional for rolling out dough
1/4 teaspoons baking soda
1 tablespoon pumpkin pie spice
1/2 teaspoon fine salt
3/4 cup unsalted butter, slightly softened
1/3 cup granulated sugar
1/3 cup light brown sugar
1 large egg
2 teaspoons pure vanilla extract
Icing:
Hard candies, try yellow, red, black, (Jolly Ranchers preferred)
1/4 cup water
3 tablespoons egg white powder
3/4 teaspoon orange extract
1 1/2 to 2 cups confectioners' sugar
1 empty metal tuna fish can, (about 6 ounces) for cutting cookies (See Cooks Note)
Lollipop sticks, available in craft or bakers' supply stores
For the cookies:
Whisk the flour, baking soda, pumpkin pie spice, and salt together in a medium bowl.
Beat the butter in a large bowl with a handheld mixer until fluffy. Scrape down the sides of the bowl, add the sugars, and continue beating until light, about 3 minutes. Add egg and vanilla extract, beating until smooth. Gradually add the dry ingredients while mixing slowly to make a smooth dough. Divide dough in half and press each half into a disk. Wrap in plastic wrap, and refrigerate until firm, at least 1 hour.
Transfer 1 disk of dough to a floured work surface and roll about 1/4-inch thick. Cut into cookies with a pinched tuna can (see below). Transfer cookies with an offset spatula to a nonstick or silicon lined baking sheet.
Cut out eyes and a mouth with a pastry tip, fat straw, or a knife. Press the lollipop sticks into the narrow end of each cookie, if using. Repeat with remaining dough. Press excess dough together, roll and cut into cookies. Refrigerate cookies for at least 30 minutes.
Evenly space the racks in the oven and preheat to 350 degrees F. Put the candies in a small plastic bag and hit with a rolling pin to break into little pieces.
Bake the cookies just until they are set, about 20 minutes. Remove baking sheets from the oven and carefully sprinkle the broken candies into the eyes and mouth of the cookies. Continue to cook until the candy liquefies, about 3 minutes more. Cool cookies on pan for 10 minutes before removing from the pan. Cool cookies on a rack.
For the icing: Whisk the water, egg white powder and orange extract in a medium bowl until foamy but smooth. Gradually whisk in the confectioners' sugar to make a smooth icing. Spread a layer of icing over the entire surface of the cookies with the back of a teaspoon. Let rest until the icing sets, about 30 minutes. Serve or store in a covered container for up to 3 days.
Cook's Note:
Remove the top and bottom of the tuna can and discard. Wash and dry well. Pinch the sides of the can together to make a skull-like shape.