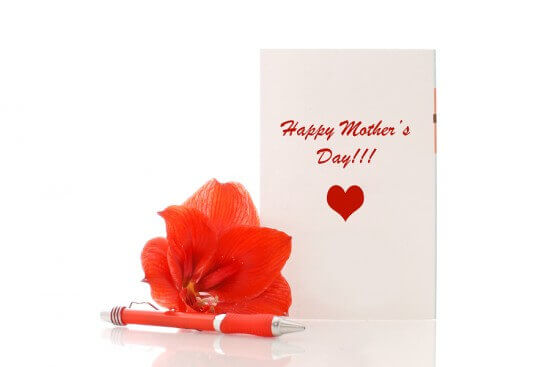 Nothing shows Mom how special she is like a homemade card. Best of all, homemade cards can be by crafters of all ages and crafting skills. Rather then simply buying a generic Mother's Day card, you can make one that reflects your Mom and how you feel about her. These homemade cards are easy to do, and require materials you can find easily around your house, or at your local craft store. Mom is sure to be surprised, pleased and overwhelmed that you took the time and made the effort, to show her  how special she is this Mother's Day. Here is how you can make homemade cards for Mother's Day-
Wheel of Affection-If you are at a loss for words, then this clever wheel-shaped card lets you tell Mom just how great you think she is.
What you will need: 
Card stock        
Pinking shears        
Craft knife
Paper fastener        
Glue
Scissors
Magazines to cut words out of 
Instructions for the project: Begin by tracing around a small plate on a sheet of colored card stock. You will then need to cut out the circle. Using this first circle as a guide, you will then need to cut out three more circles that are each slightly larger then the previous one. This works best if you are using different colors. If you want to you can trim the circles with pinking shears. The next step is to glue the 2 smallest circles together and the two largest circles together. You should end up with two double thick wheels. An adult will then need to use the craft knife to cut a small window (about 1×2 inches) in the smaller wheel. You will then have the crafter write in the beginning of a message, such as "To Me You Are", above the window. The next step is to cut out complimentary words and phrases, from newspapers or magazines, such as "wonderful", "beautiful" " amazing". Keep in mind that these need to be the size of the window or smaller. To finish the card, you will need to poke a hole  through the center of each wheel and attach them with a paper fastener. You can then use a glue stick to attach the cutouts to the larger wheel through the window. It  is important to make sure that you are gluing the edges down well, and spacing them so that only one word can be seen at a time. As a finishing touch, you can then decorate the top wheel with more Mother's Day greetings and messages.
As every parent knows, kids have a knack for leaving their fingerprints on everything. Now they can use this incredible skill to crank out a whole mess of adorable cards.
Thumb Bunny Card-This adorable card makes use of the fingerprints that kids seem to leave everywhere. Best of even the youngest crafters can make this card, with a little help, from an adult or older sibling.
What you will need: 
Paintbrush
White acrylic paint
Paper plate
Colored card stock
Black and pink markers
Instructions for the project: The first step is to use the paintbrush and spread a layer of paint on the bottom of the paper plate. Keep in mind that this should be a thin layer, since this will be your ink pad. Have the child dip their thumbs into the paint and print them on the card. Keep in mind that their thumbprint will be the bunny's head. For the ears,  you should have them press down only half of their thumb to make a long, skinny shape. After the paint completely dries, they can decorate the face with markers, adding whiskers, eyes, and a nose. Use the black marker to write "Some bunny loves you!" on the front of the card.