Dear Reader,
Happy Valentine's Day! My hubby and I don't have a lot of Valentine's Day traditions, but there are usually flowers involved. Do you celebrate Valentine's Day? What are your traditions?
See ya on the Net,
Barbara J. Feldman
"Surfing the Net with Kids"
https://www.surfnetkids.com

Black History Month
https://www.surfnetkids.com/resources/black-history-month/
Black History Month Printable(** for Premium Members only)
https://www.surfnetkids.com/printables/files/printables-club/black_history_month.pdf
In 1915, historian Carter G. Woodson proposed a "Negro History Week" to honor the history and contributions of African-Americans. Nine years later, his dream became reality. Woodson chose the second week of February to pay tribute to the birthdays of two Americans that dramatically affected the lives of Blacks: Abraham Lincoln>/a> (February 12, 1809) and Frederick Douglass (February 14, 1818). The week-long observance officially became Black History Month in 1976.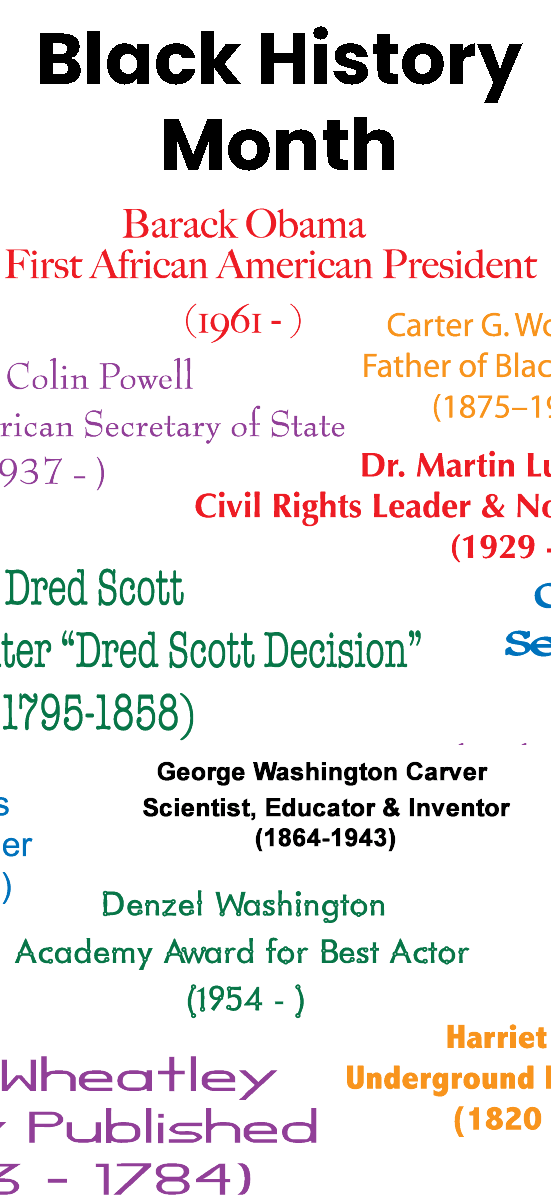 African American History Month


This site pays "tribute to the generations of African Americans who struggled with adversity to achieve full citizenship in American society" by indexing Black History Month content across seven federal agencies (including Library of Congress, National Archives, and the Smithsonian Institute). The collection includes audio and video, online exhibits, image galleries, and resources for teachers.
Biography: Black History


"African-American history is filled with the tales of inspiring individuals – many of whom overcame great odds to leave their mark on the United States." Biography.com's collection of biographies are presented here with the newest entries at the top. To traverse to the next page, use the "See More" link at the bottom. Or, to find a particular black hero, use the search function in the upper right-hand corner.
History: Black History Month


"President Gerald R. Ford officially recognized Black History Month in 1976, calling upon the public to 'seize the opportunity to honor the too-often neglected accomplishments of black Americans in every area of endeavor throughout our history.'" Begin with the two-minute video on the origins of Black History Month, then peruse the related content in the right-hand sidebar, which includes a gallery of Black Women Musicians and a look at the integration of Central High School in Little Rock, Arkansas.
… Click to continue to Black History Month
Printables Club Members Also Get …
Surfnetkids Printables Club Members also get the following printables to use in the classroom, the computer lab, the school library, or to send home with students:
Black History Month Printable
Black History Month Wikipedia Printable
Martin Luther King, Jr. Printable
Rosa Parks Printable
Tuskegee Airmen Printable
Sojourner Truth Printable
*** Are you curious? Get your own ten-day trial membership:
https://www.surfnetkids.com/printables-club/
Related Games
Black History Month Quiz
Rosa Parks Quiz
Quote of the Week
"Those who have no record of what their forebears have accomplished lose the inspiration which comes from the teaching of biography and history." ~~ Carter G. Woodson ~~ (December 19, 1875 – April 3, 1950) American historian known as Father of Black History. Read more quotes from Carter Woodson by clicking the link.
Surfing the Calendar
Black History Month
February
Wild Bird Feeding Month
February
American Heart Month
February
Children's Dental Health Month
February
Thomas Edison's Birthday
Feb 11, 1847
National Inventors Day
Feb 11, 2019
Ferris Wheel Day (George Ferris' Birthday)
Feb 14, 1859
Valentine's Day
Feb 14, 2019
Valentine's Day Poems
Feb 14, 2019
Valentine's Day Crafts
Feb 14, 2019
Valentine's Day Coloring Pages
Feb 14, 2019
Anniversary of ENIAC
Feb 14, 1946
Galileo Galilei's Birthday
Feb 15, 1564
Susan B. Anthony's Birthday
Feb 15, 1820
National Engineers Week
Feb 17-23, 2019
Pluto Discovered
Feb 18, 1930
Presidents' Day
Feb 18, 2019
Ansel Adams' Birthday
Feb 20, 1902
First American Orbits the Earth
Feb 20, 1962