Dear Reader,
In addition to being a month for dads and grads, June is also Cancer from the Sun Month. Today's topic is dedicated to enjoying the outdoors while keeping safe and healthy.
See ya on the Net,
Barbara J. Feldman
"Surfing the Net with Kids"
https://www.surfnetkids.com

Sun Safety
https://www.surfnetkids.com/resources/sun-safety/
Sun Safety Printable(** for Premium Members only)
https://www.surfnetkids.com/printables/files/printables-club/sun-safety.pdf
Schools out! Summer sunshine is here. But don't leave the house without your sunglasses, brimmed hat, and sunscreen. Why bother? Because despite the sun's beneficial effects on our mood, even a small amount of daily exposure can lead to skin damage and cancer. In honor of June's status as Cancer from the Sun Month, here are my website picks for sun safety.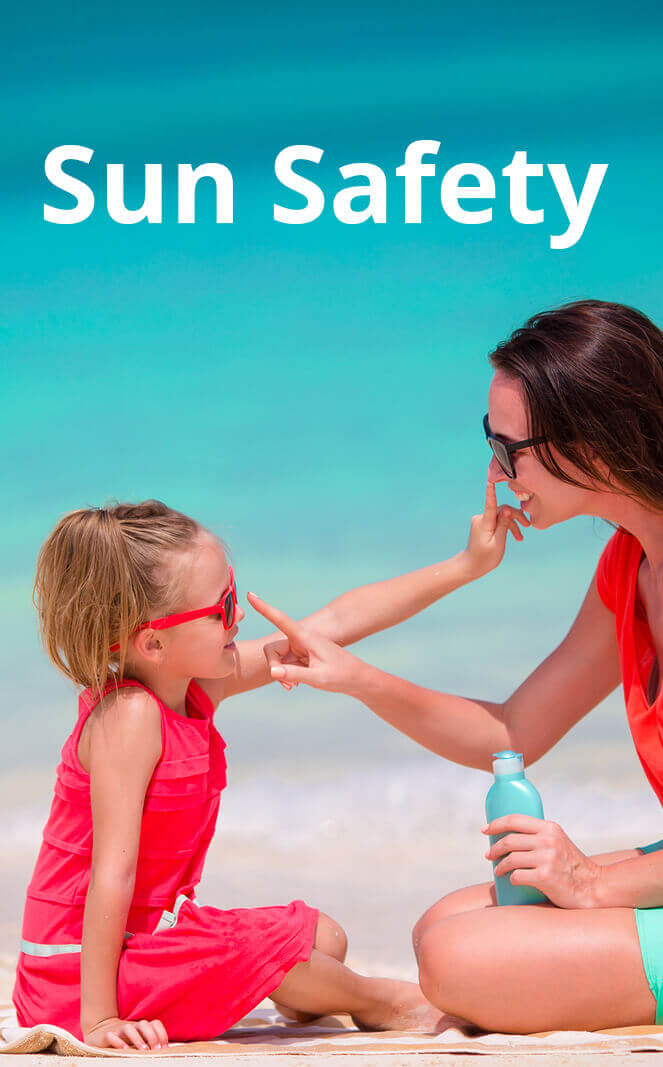 American Cancer Society: Be Safe in the Sun


The American Cancer Society offers up a small collection of sun-safety articles and a quiz to help us learn how to be safe while enjoying the sun. "Skin cancer is the most common cancer in the United States. In fact, more skin cancers are diagnosed in the US each year than all other cancers combined. The number of skin cancer cases has been going up over the past few decades. Most skin cancers are caused by too much exposure to ultraviolet (UV) rays."
CDC: Sun Safety


This page is part of the Center for Disease Control's (CDC) kid section "BAM! Body and Mind". It includes vital safety tips ("You can also protect yourself by seeking shade.") along with an introduction to the UV Index. "The UV index is an online tool that determines how strong the sun's UV rays are each day, on a scale from 0 to 11+. A lower UV index means fewer UV rays are reaching the earth's surface and you are less likely to get sun damage while outside."
EEK! Hole in the Ozone Layer?

"In the late 1920s, chemicals called chlorofluorocarbons (or CFCs) were invented. These chemicals were not poisonous and didn't harm fabrics, plants or people. Companies thought they were great and used them in refrigerators, air conditioners, Styrofoam packaging, and spray cans." But in the 1970s, scientists discovered that fifty years of CFC usage had harmed the earth's ozone layer, exposing us to harmful UV rays. This illustrated one-page article is a good introduction to the long term environmental and human damage caused by CFCs.
… Click to continue to Sun Safety
Printables Club Members Also Get …
Surfnetkids Printables Club Members also get the following printables to use in the classroom, the computer lab, the school library, or to send home with students:
Sun Safety Printable
Printable Sun Safety Word Search
Sunscreen Wikipedia Printable
*** Are you curious? Get your own ten-day trial membership:
https://www.surfnetkids.com/printables-club/
Related Games
Sun Safety Word Search
Sun Protection Mix and Match
Summer Sun Concentration
Quote of the Week
"After you understand about the sun and the stars and the rotation of the earth, you may still miss the radiance of the sunset." ~~ Alfred North Whitehead ~~ (February 15, 1861 – December 30, 1947) American mathematician. Click the link to read more quotes about attitude.
Surfing the Calendar
National Physical Fitness and Sports Month
May
National Youth Traffic Safety Month
May
National Flower Month
May
Sudoku First Published as Number Place in Dell Puzzle Magazine
May, 1979
Cellophane Tape Patented
May 27, 1930
Golden Gate Bridge Opens
May 27, 1937
Memorial Day
May 27, 2019
Sojourner Truth Gives "Ain't I Woman?" Speech
May 28-29, 1851
National Spelling Bee Week
May 28 – 30, 2019
John F. Kennedy's Birthday
May 29, 1917
First Daily American Newspaper Published
May 30, 1783
President Woodrow Wilson Proclaims June 14 Flag Day
May 30, 1916
First US copryight law passed
May 31, 1790
Walt Whitman's Birthday
May 31, 1819
Mark Felt Reveals Himself as Watergate's Deep Throat
May 31, 2005
Adopt-a-Shelter-Cat Month
June
National Rose Month
June
Cancer From the Sun Month
June
Dairy Month
June