Dear Reader,
Last week I spoke about becoming very sensitive to some kinds of light (flickering fluorescent light, for example). I'm now one week into life with my new no-flicker computer monitor with a built-in blue-light filter, and I am feeling much better. Whether there is actually cause and effect, I'll never know, but so far, so good!
See ya on the Net,
Barbara J. Feldman
"Surfing the Net with Kids"
https://www.surfnetkids.com

Banned Books Week
https://www.surfnetkids.com/resources/banned-books-week/
Banned Books Week Printable(** for Premium Members only)
https://www.surfnetkids.com/printables/files/printables-club/banned-books-week.pdf
Banned Books Week is celebrated each autumn, promoting our freedom to read, and the importance of the availability of books on all topics and about all viewpoints for those that choose to read them.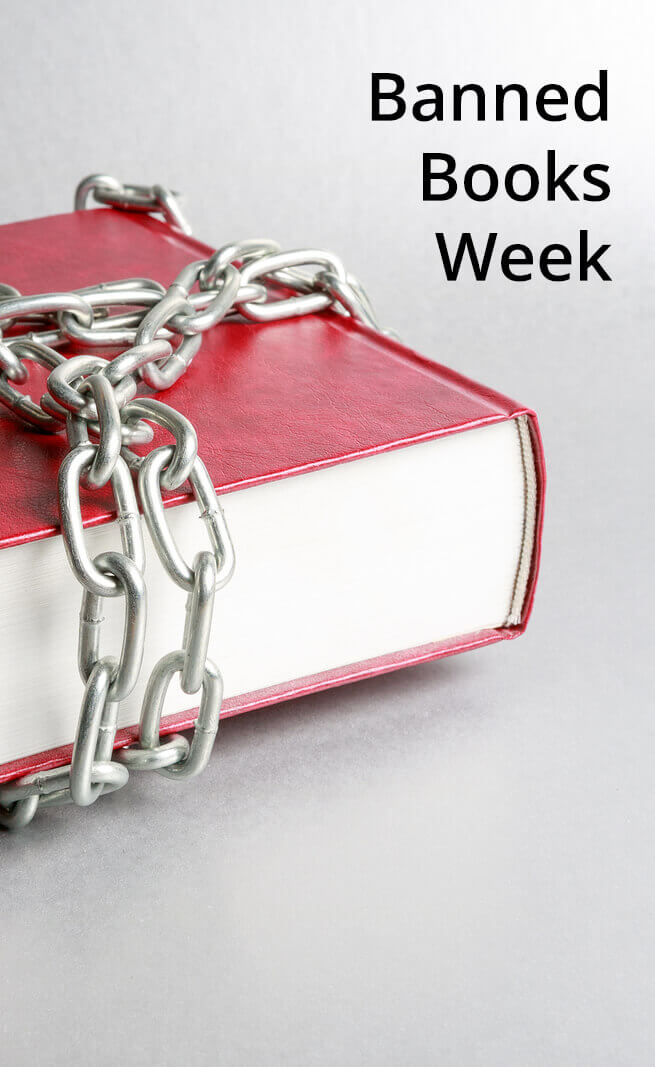 ALA: Banned Books


The American Library Association is the main sponsor of Banned Books Week. Their website provides ideas on how to celebrate the annual event in your community or school, lists of frequently banned books, and resources for fighting a local challenge "A challenge is an attempt to remove or restrict materials, based upon the objections of a person or group. A banning is the removal of those materials. Challenges do not simply involve a person expressing a point of view; rather, they are an attempt to remove material from the curriculum or library, thereby restricting the access of others. As such, they are a threat to freedom of speech and choice."
Banned Books Week


"Banned Books Week was launched in 1982 in response to a sudden surge in the number of challenges to books in schools, bookstores and libraries. More than 11,300 books have been challenged since 1982." With separate sections of resources for kids, librarians, teachers, parents, students, writers, booksellers and artists, this is another American Library Association website, created in association with about a dozen other official sponsors. Be sure to visit their YouTube page to view videos of readers reading from their favorite banned or challenged book.
Comic Book Legal Defense Fund


Comic books are also frequently challenged, but I was surprised to learn about the existence of the Comic Book Legal Defense Fund. It is a non-profit "dedicated to the protection of the First Amendment rights of the comics art form." Jump to Resources for articles on why comic books are banned, which comics are frequently challenged, and the history of comic book bans. "Comic books have been the object of legal controversy since the 1950s when the Senate Judiciary Committee's Subcommittee to Investigate Juvenile Delinquency investigated the medium in response to public pressure about its content."
… Click to continue to Banned Books Week
Printables Club Members Also Get …
Surfnetkids Printables Club Members also get the following printables to use in the classroom, the computer lab, the school library, or to send home with students:
Banned Books Week Printable
Banned Books Week Wikipedia Printable
Booklists Printable
*** Are you curious? Get your own ten-day trial membership:
https://www.surfnetkids.com/printables-club/
Related Games
Quote of the Week
"It is books that are the key to the wide world; if you can't do anything else, read all that you can." ~~ Jane Hamilton ~~ ( 13 July 1957) American novelist. Find more quotes about books by clicking the link.
Surfing the Calendar
National Honey Month
September
National School Success Month
September
National Piano Month
September
National Save A Tiger Month
September
National DNA, Geonomics & Stem Cell Education Month
September
Library Card Signup Month
September
National 5-A-Day Month
September
Save the Koala Month
September
Whooping Crane Fall Migration
Sep 15-Nov 15, 2019
Pilgrims left Plymouth England on the Mayflower
Sep 16, 1620
National Play-Doh Day
Sep 16, 2019
U.S. Constitution Approved at Constitutional Convention
Sep 17, 1787
Constitution Day
Sep 17, 2019
U.S. Air Force Established
Sep 18, 1947
Typographic Smiley Face Invented
Sep 19, 1982
Talk Like a Pirate Day
Sep 19, 2019
Orville Wright Made First Complete Circle in an Airplane
Sep 20, 1904
Houdini Premiers Greatest Escape
Sep 21, 1912
President Lincoln Issued Preliminary Emancipation Proclamation
Sep 22, 1862
Italo Marchiony Applied for Ice Cream Cone Patent
Sep 22, 1903
Banned Books Week
Sep 22-28, 2019
Elephant Appreciation Day
Sep 22, 2019
Sea Otter Awareness Week
Sep 22-28, 2019