Dear Reader,
How about that time change? I've acclimated more or less, but my cats (we have three!) are going crazy for their dinner and driving me mad in the process. Who rules your house? Around here it is definitely the cats.
See ya on the Net,
Barbara J. Feldman
"Surfing the Net with Kids"
https://www.surfnetkids.com

Vikings
https://www.surfnetkids.com/resources/vikings/
Vikings Printable(** for Premium Members only)
https://www.surfnetkids.com/printables/files/printables-club/vikings.pdf
Ten centuries ago, Vikings lived in northern Europe, in an area that now includes Denmark, Norway and Sweden. Vikings were infamous pirates and warriors, terrorizing Europe for hundreds of years. But warfare was not their only pursuit. They excelled on the sea, and were among the best shipbuilders of their time. Learn more at the following sites.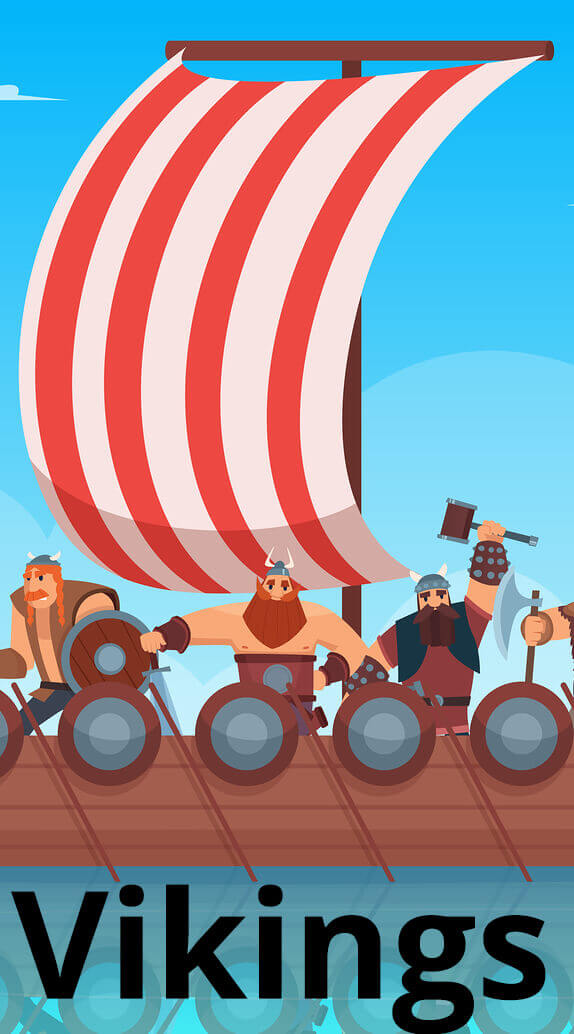 BBC Bitesize: Vikings


"The Viking age in European history was from about AD 700 to 1100. During this period many Vikings left their homelands in Scandinavia and travelled by longboat to other countries, like Britain and Ireland." This BBC School site explores Viking life, Viking warriors, and Viking beliefs. It includes illustrated articles answering a variety of questions ("Who were the Vikings?") and a gallery of 16 videos.
Historical Association: The Vikings in Britain


"We know about them [Vikings] through archaeology, poetry, sagas and proverbs, treaties, and the writings of people in Europe and Asia whom they encountered. They left very little written evidence themselves. As well as warriors, they were skilled craftsmen and boat-builders, adventurous explorers and wide-ranging traders. "
History: Vikings


Vikings were not a race of people with common ancestry. "Their common ground — and what made them different from the European peoples they confronted — was that they came from a foreign land, they were not 'civilized' in the local understanding of the word and — most importantly — they were not Christian." Visit this History.com page for an introductory Viking video and companion article with links to related topics such as Leif Eriksson.
… Click to continue to Vikings
Printables Club Members Also Get …
Surfnetkids Printables Club Members also get the following printables to use in the classroom, the computer lab, the school library, or to send home with students:
Vikings Printable
Vikings Quiz and Worksheet
Vikings Wikipedia Printable
Ancient Rome Printable
Castles Printable
*** Are you curious? Get your own ten-day trial membership:
https://www.surfnetkids.com/printables-club/
Related Games
Quote of the Week
"It is always with excitement that I wake up in the morning wondering what my intuition will toss up to me, like gifts from the sea. I work with it and rely on it. It's my partner." ~~ Jonas Salk ~~ (October 28, 1914 – June 23, 1995) developer of polio vaccine. Click this link to read more Jonas Salk quotes.
Surfing the Calendar
American Indian Heritage Month
November
Aviation History Month
November
Lincoln Elected President
Nov 6, 1860
Marie Curie's Birthday
Nov 7, 1867
Cortes Conquers Mexico
Nov 8, 1519
Kensington Rune Stone Discovered in Minnesota
Nov 8, 1898
Hope Diamond Mailed to Smithsonian
Nov 8, 1958
Fall of the Berlin Wall
Nov 9, 1989
National Young Reader's Day
Nov 9, 2019
Geography Awareness Week
Nov 10-16, 2019
Vietnam Veterans Memorial Dedicated
Nov 11, 1982
Veterans Day
Nov 11, 2019
Elizabeth Cady Stanton's Birthday
Nov 12, 1815
Nellie Bly Begins Her Trip Around the World
Nov 14,1889
Leonids Meteor Shower
Nov 14-21, 2019
America Recycles Day
Nov 15, 2019
Lewis & Clark Expedition Reaches Pacific Ocean
Nov 16, 1805