Dear Reader,
Today's homage to the Tuskegee Airmen is just one of many Surfnetkids resources in celebration of Black History Month. You'll find a more in this Black History Month Resources article.
See ya on the Net,
Barbara J. Feldman
"Surfing the Net with Kids"
https://www.surfnetkids.com

Tuskegee Airmen
https://www.surfnetkids.com/resources/tuskegee-airmen/
Tuskegee Airmen Printable(** for Premium Members only)
https://www.surfnetkids.com/printables/files/printables-club/tuskegee-airmen.pdf
On July 19, 1941, the U.S. Air Force began a program in Tuskegee, Alabama to train black Americans as military pilots. At the time, the Army was segregated, and only whites were allowed to fly. In the five years that followed, 992 black pilots graduated, receiving commissions and pilot wings. These black World War II pilots, who fought both fascism and racism, became known as the Tuskegee Airman.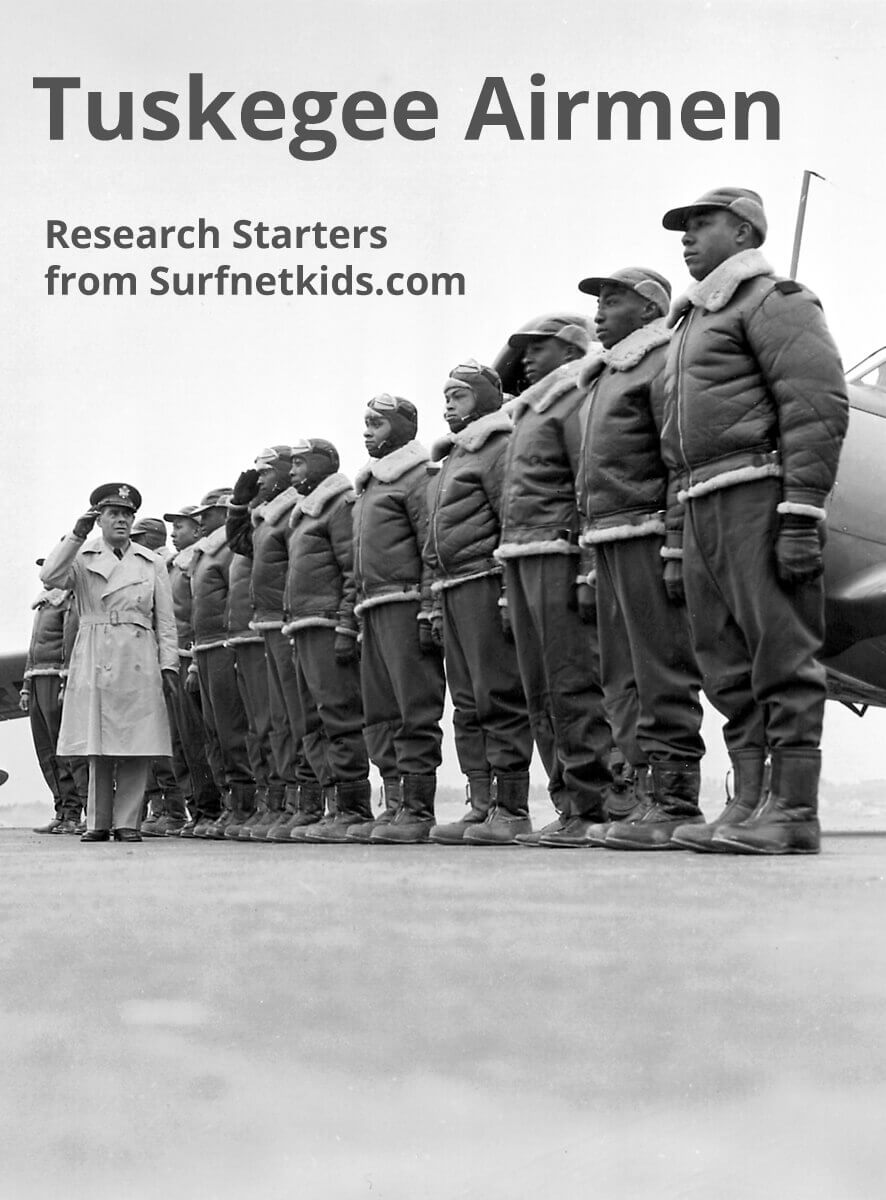 CAF Red Tail Squadron: America's Tribute to the Tuskegee Airmen


"Like many others in the late 1930s, the individuals who become known as the Tuskegee Airmen were full of patriotic zeal and eager to join military service as the war in Europe and Asia intensified. What set them apart was that they had the passion and skill to fight the enemy from the air as pilots, something that black Americans had never been allowed to do before." This is my Tuskegee Airmen site of the day. Best reasons to visit include the Virtual Museum, and the more than 100 profiles of the American heroes we now call Tuskegee Airmen.
National Parks Service: Tuskegee Airmen


"Tuskegee is more than a town located in Macon County, Alabama. It is an idea and an ideal. It was a bold experiment and a site of major African-American achievements for over 100 years." This National Parks Service web exhibit honors three legends: Booker T. Washington, George Washington Carver, and the Tuskegee Airmen. Washington was the first principal of the African-American college that became the Tuskegee Institute. Carver was a teacher there for forty years. The Tuskegee Airmen (America's first black pilots) were named after the Institute where they began their Air Force training.
Smithsonian National Air and Space Museum: Black Wings


This Smithsonian site is a tribute to all African American Pioneer Aviators, including but not limited to the Tuskegee Airmen. "Bessie Coleman broke through the headwinds of racial prejudice as a barnstorming pilot at air shows in the 1920s. As a pilot, Bessie Coleman quickly established a benchmark for her race and gender in the 1920s. She toured the country as a barnstormer, performing aerobatics at air shows."
… Click to continue to Tuskegee Airmen
Printables Club Members Also Get …
Surfnetkids Printables Club Members also get the following printables to use in the classroom, the computer lab, the school library, or to send home with students:
Tuskegee Airmen Printable
Printables Tuskegee Airmen Word Search
Tuskegee Airmen Wikipedia Printable
Black History Month Printable
Martin Luther King, Jr. Printable
Rosa Parks Printable
*** Are you curious? Get your own ten-day trial membership:
https://www.surfnetkids.com/printables-club/
Related Games
Quote of the Week
"No human race is superior; no religious faith is inferior. All collective judgments are wrong. Only racists make them." ~~ Elie Wiesel ~~ (1928- 2016) was a Romanian-born American Jewish writer, professor, political activist, Nobel Laureate and Holocaust survivor. Click this link to read more Elie Wiesel quotes at Lightafire.com.
Surfing the Calendar
Black History Month
February
Wild Bird Feeding Month
February
American Heart Month
February
Children's Dental Health Month
February
French and Indian War Ends
Feb 10, 1763
IBM Computer Beats Kasparov at Chess
Feb 10, 1996
Thomas Edison's Birthday
Feb 11, 1847
Safer Internet Day
Feb 11, 2020
National Inventors Day
Feb 11, 2020
Ferris Wheel Day (George Ferris' Birthday)
Feb 14, 1859
Valentine's Day
Feb 14, 2020
Valentine's Day Poems
Feb 14, 2020
Valentine's Day Crafts
Feb 14, 2020
Valentine's Day Coloring Pages
Feb 14, 2020
Anniversary of ENIAC
Feb 14, 1946
Galileo Galilei's Birthday
Feb 15, 1564
Susan B. Anthony's Birthday
Feb 15, 1820
National Engineers Week
Feb 16-22, 2020
Presidents' Day
Feb 17, 2020