Dear Reader,
Today's topic was inspired by the anniversary of the first U.S. chartered passenger railroad service on February 28, 1827. Hope you enjoy these train resources!
See ya on the Net,
Barbara J. Feldman
"Surfing the Net with Kids"
https://www.surfnetkids.com

Trains
https://www.surfnetkids.com/resources/trains/
Trains Printable(** for Premium Members only)
https://www.surfnetkids.com/printables/files/printables-club/trains.pdf
In 1830 there were only twenty-three miles of railroad in the United States. This number grew to 30,000 miles of track by 1860. Trains hold a mystique and fascination for many: the romance of leisurely travel, the thrill of building detailed miniature models that actually run, the excitement of seeing a train pass through the countryside. Experience it all at the following railroading sites.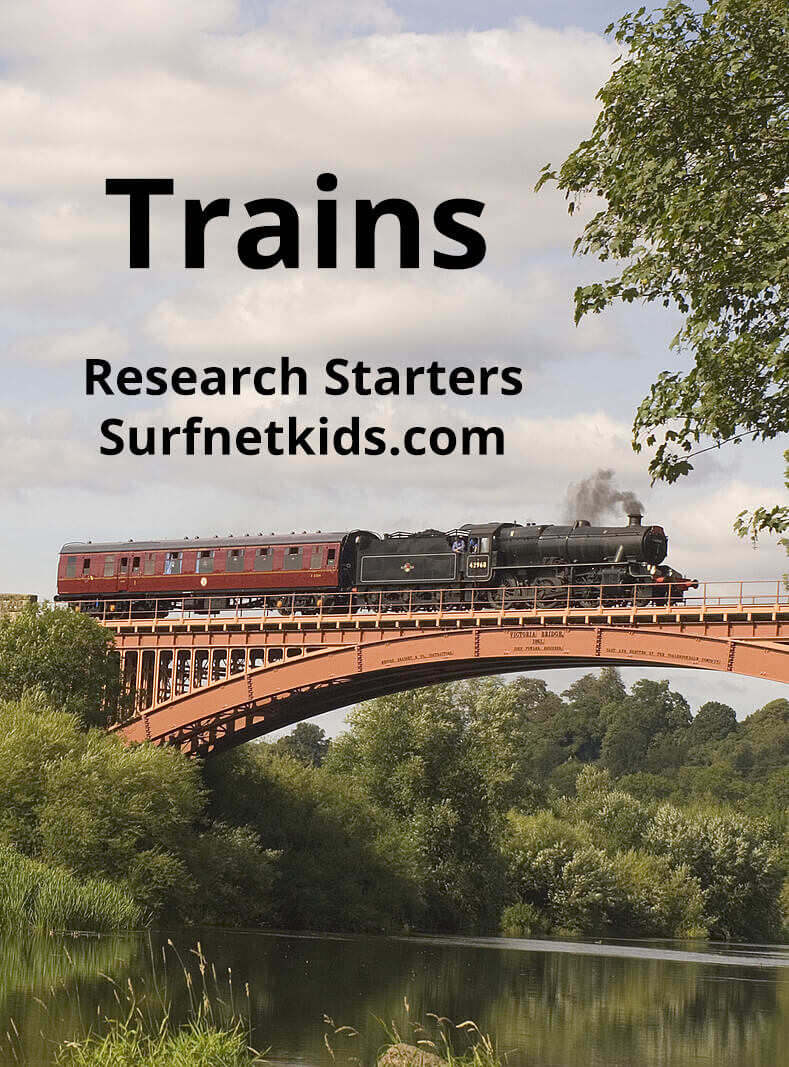 American Experience: Riding the Rails


"At the height of the Great Depression, more than a quarter million teenagers were living on the road in America, many crisscrossing the country by illegally hopping freight trains." This site, a companion to the PBS film of the same name, tells the story of why they left home and how they struggled to survive. Best clicks are the three Special Features (don't miss Striking a Chord: Railroads and their Musical Heritage) and the timeline which neatly summarizes the depression years of 1929 to 1940.
DK Findout: History of Trains


"The London Underground was the world's first underground railroad. It opened in 1863 to help ease London's busy roads of buses and trams." Enjoy five hyperlinked fun facts, and then continue your train trip by clicking on the History of Trains link near the bottom of the page. "When the first steam train was built in 1804, people were worried that the speed would make rail passengers unable to breathe or that they would be shaken unconscious by the vibrations."
Fact Republic: 25 Interesting Facts about Trains


"The Japanese bullet train system is equipped with a network of sensitive seismometers. On March 11, 2011, one of the seismometers detected an 8.9 magnitude earthquake 12 seconds before it hit and sent a stop signal to 33 trains. As a result, only one bullet train derailed that day." Each of these 25 train facts links to a source page where you can learn more.
… Click to continue to Trains
Printables Club Members Also Get …
Surfnetkids Printables Club Members also get the following printables to use in the classroom, the computer lab, the school library, or to send home with students:
Trains Printable
Trains Wikipedia Printable
Underground Railroad Printable
*** Are you curious? Get your own ten-day trial membership:
https://www.surfnetkids.com/printables-club/
Related Games
Quote of the Week
"Do not train children to learning by force and harshness, but direct them to it by what amuses their minds." ~~ Plato ~~ (400 BCE) Greek philosopher. Check out more Plato-related goodies here.
Surfing the Calendar