Dear Reader,
My kitchen and bathroom remodel will be done this week! Do you also have some good news to share? Just hit reply and tell me something good.
See ya on the Net,
Barbara J. Feldman
"Surfing the Net with Kids"
https://www.surfnetkids.com

Women's History Month
https://www.surfnetkids.com/resources/womens-history-month/
Women's History Month Printable(** for Premium Members only)
https://www.surfnetkids.com/printables/files/printables-club/womens_history_month.pdf
Women's History Month traces its beginnings to the first International Women's Day, held on March 8, 1911 in Copenhagen, spearheaded by Clara Zetkin, a German political leader. In 1981, responding to the growing popularity of the event in schools across the states, Congress passed a resolution making Women's History Week a national American holiday. It was just six years later, 1987, when Congress legally expanded the celebration to the entire month of March.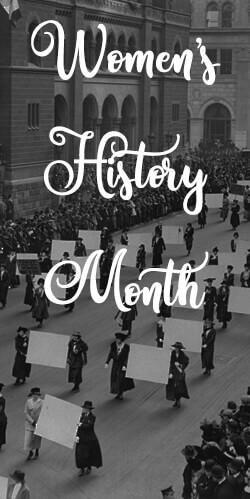 Biography: Women's History Month


Biography.com's salute to Women's History Month is filled to the brim with biographies of groundbreaking women. "Despite all sorts of institutional obstacles, women have continued to reach stratospheric levels of success in a full gamut of professional pursuits, whether as scientists, scribes, educators, governmental leaders, athletes, designers, film directors or performers. Learn more about the plethora of triumphs obtained by our group of trailblazers."
Distinguished Women of Past and Present


Cell biologist Danuta Bois fulfills her desire to uncover the accomplishments of women ignored by history books with her Distinguished Women website. "This site has biographies of women who contributed to our culture in many different ways. There are writers, educators, scientists, heads of state, politicians, civil rights crusaders, artists, entertainers, and others. Some were alive hundreds of years ago and some are living today. We've heard of some of them, while many more have been ignored by history book writers. I'd like to acknowledge as many as I can."
Goodreads: Female Biographies


Why not read a book in celebration of Women's History Month? This list of 100 female biographies was voted on by Goodreads members, and are ranked from most popular to least. The top three favorites are "The Diary of Anne Frank" by Anne Frank, "Eleanor of Aquitaine: A Life" by Alison Weir, and "The Six Wives of Henry VIII" by Alison Weir.
… Click to continue to Women's History Month
Printables Club Members Also Get …
Surfnetkids Printables Club Members also get the following printables to use in the classroom, the computer lab, the school library, or to send home with students:
Women's History Month Printable
Women's History Month Wikipedia Printable
Women's Suffrage Printable
Susan B. Anthony Printable
History of Women's Rights Printable
Famous Women Printable
*** Are you curious? Get your own ten-day trial membership:
https://www.surfnetkids.com/printables-club/
Related Games
Quote of the Week
"Whoever is happy will make others happy too." ~~ Anne Frank ~~ (June 12, 1929 – early March 1945) German Jewish teen diarist during World War II. Find more happiness quotes by clicking the link.
Surfing the Calendar
Irish American Heritage Month
March
National Craft Month
March
National Nutrition Month
March
Music in Our Schools Month
March
Women's History Month
March
National Cheerleading Safety Month
March
Dr. Seuss' Birthday (Celebrated as Read Across America)
Mar 2, 1904
Alexander Graham Bell's Birthday
Mar 3, 1847
National Anthem Day
Mar 3, 1931
World Book Day
Mar 3, 2020
Franklin Delano Roosevelt is inaugurated as President
Mar 4, 1933
National Grammar Day
Mar 4, 2020
Boston Massacre
Mar 5, 1770
Michelangelo's Birthday
Mar 6, 1475
Fall of the Alamo
Mar 6, 1836
U.S. Patent Issued for Alexander Graham Bell's Telephone
Mar 7, 1876
Iditarod Begins
Mar 7, 2020
Daylight Saving Time Begins
Mar 8, 2020
Barbie Doll Debuts
Mar 9, 1959
US Paper Money Issued
Mar 10, 1862
Harriet Tubman Day (the Anniversary of Her Death in 1913)
Mar 10, 2020