Dear Reader,
Today's Handwashing topic is (obviously) inspired by current headlines. I hope you and yours are healthy and not excessively stressed.
See ya on the Net,
Barbara J. Feldman
"Surfing the Net with Kids"
https://www.surfnetkids.com

Handwashing
https://www.surfnetkids.com/resources/handwashing/
Handwashing Printable(** for Premium Members only)
https://www.surfnetkids.com/printables/files/printables-club/handwashing.pdf
Handwashing is our number one weapon against the spread of infections and viruses such as influenza and coronavirus. While handwashing has always been important to our health, it has stepped into the limelight now that health professionals are repeatedly reminding us that the best way to stay healthy is to wash our hands and not touch our face.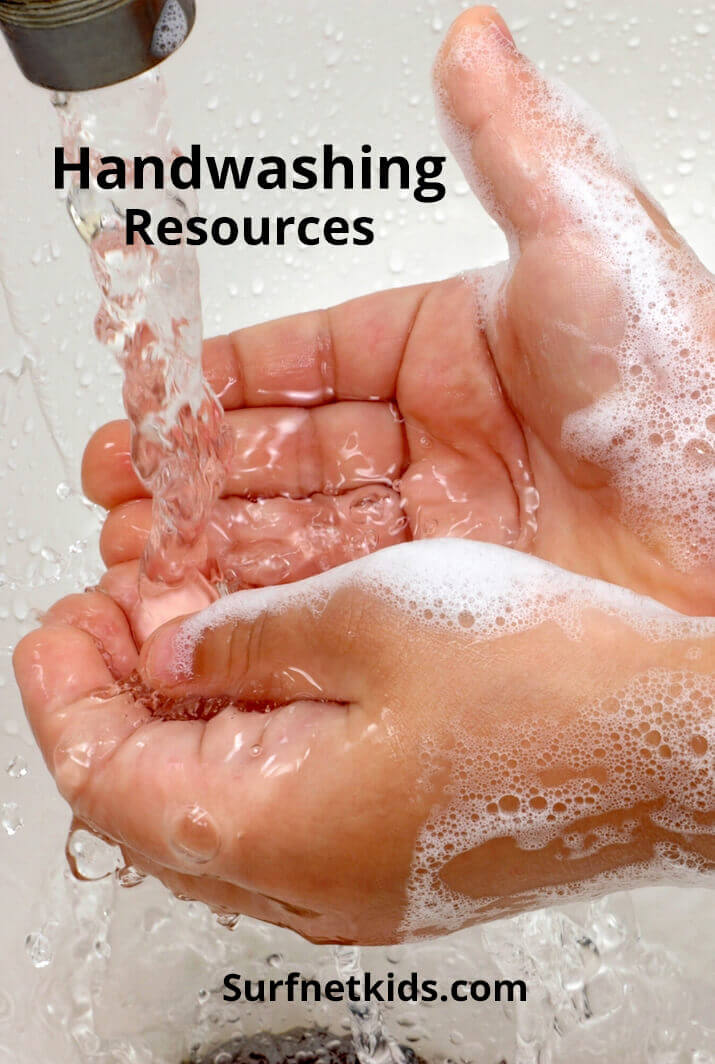 CDC: When and How to Wash Your Hands


Learn five steps to wash your hands the right way, and when and how to use hand sanitizer. Be sure to click on "Read the science behind the recommendations" to learn more about microbes and germs, with an extensive list of links to online public health sources. "To date, studies have shown that there is no added health benefit for consumers (this does not include professionals in the healthcare setting) using soaps containing antibacterial ingredients compared with using plain soap."
Children's Hospital Vanderbilt: Step-by-Step How to Wash


A simple step-by-step handwashing guide for both kids and grownups. For more about healthy hands, look in the right-hand menu for links to sections For Families and For Kids. "Lead by example. Children learn best by seeing and doing. Start early as kids as young as three years old can grasp how to properly wash."
Living Montessori Now: Handwashing Activities for Kids


"Singing the ABC Song is one way for children to wash their hands for 20 seconds. Following are some other ideas of songs that can be introduced at circle time to encourage handwashing and/or help children wash their hands for 20 seconds." This page is chock full of preschool handwashing resources including oodles of videos, handwashing song lyrics, and links to free printables on third-party sites.
… Click to continue to Handwashing
Printables Club Members Also Get …
Surfnetkids Printables Club Members also get the following printables to use in the classroom, the computer lab, the school library, or to send home with students:
Handwashing Printable
Handwashing Wikipedia Printable
The Flu Printable
Microbes Printable
*** Are you curious? Get your own ten-day trial membership:
https://www.surfnetkids.com/printables-club/
Related Games
Quote of the Week
"Tomorrow is the most important thing in life. Comes into us at midnight very clean. It's perfect when it arrives and it puts itself in our hands. It hopes we've learned something from yesterday." ~~ John Wayne ~~ (May 26, 1907 – June 11, 1979) American actor. For more quotes about learning, click the link.
Surfing the Calendar
Irish American Heritage Month
March
National Craft Month
March
National Nutrition Month
March
Music in Our Schools Month
March
Women's History Month
March
National Cheerleading Safety Month
March
Barbie Doll Debuts
Mar 9, 1959
US Paper Money Issued
Mar 10, 1862
Harriet Tubman Day (the Anniversary of Her Death in 1913)
Mar 10, 2020
Death of John Chapman, celebrated as Johnny Appleseed Day
Mar 11, 1845
First Flu Case in the Influenza Epidemic of 1918 Reported at Fort Riley, KS
Mar 11, 1918
Sir William Herschel Discovers Uranus
Mar 13, 1781
Deaf History Month Begins
Mar 13, 2020
Albert Einstein's Birthday
Mar 14, 1879
Pi Day
Mar 14, 2020
International Ask a Question Day
Mar 14, 2020
Ireland National Day – St. Patrick's Day
Mar 17, 2020
St. Patrick's Day Clipart
Mar 17, 2020
Spring Equinox
Mar 20, 2020
Spring Begins
Mar 20, 2020
International Earth Day
Mar 20, 2020