Dear Reader,
What are you grateful for during these stressful times? I'm grateful for my patio, virtual exercise classes, streaming movies, my health, my friends and family, and YOU: my dear readers! Hit reply and let me know what you are grateful for.
See ya on the Net,
Barbara J. Feldman
"Surfing the Net with Kids"
https://www.surfnetkids.com

Water Cycle
https://www.surfnetkids.com/resources/water-cycle/
Water Cycle Printable(** for Premium Members only)
https://www.surfnetkids.com/printables/files/printables-club/water-cycle.pdf
A glass of water may not seem very complicated. Yet water can be a fascinating topic, full of opportunities for hands-on learning. Today's sites include dozens of activities and experiments for the young and curious ready to learn about the exciting life of a simple drop of water.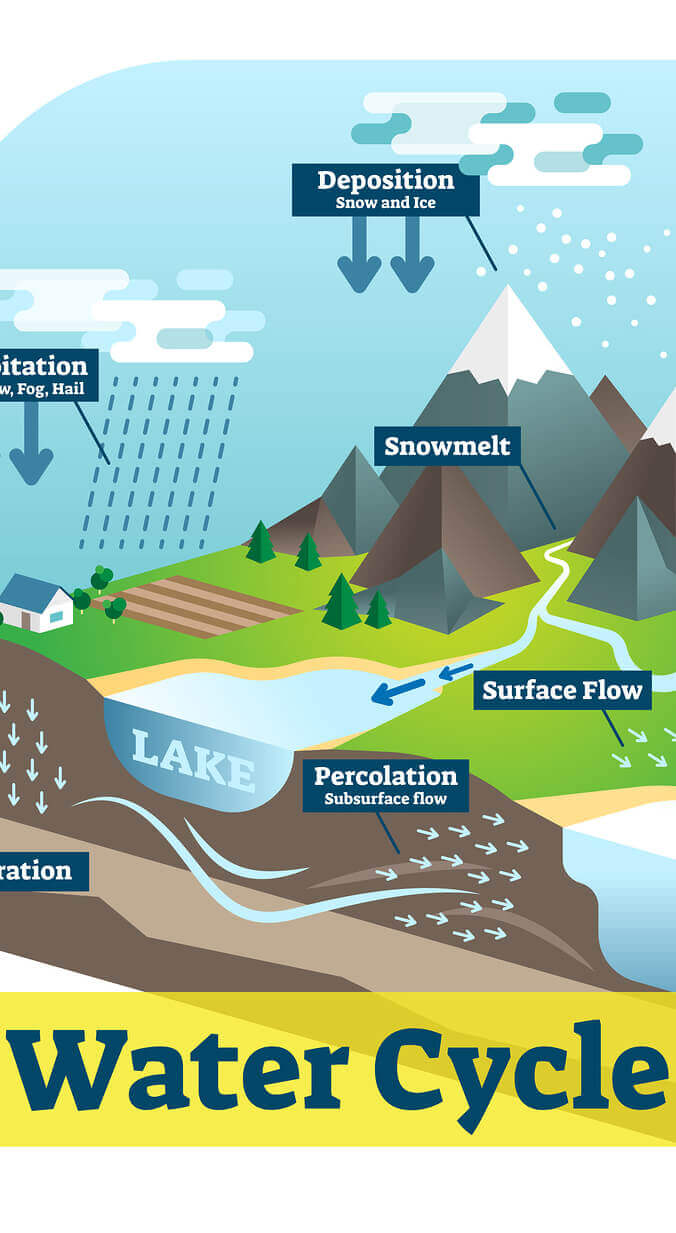 Annenberg Learner: The Water Cycle


"If you live in the United States, there are 40 trillion gallons of water above your head on an average day. Each day, about four trillion gallons of this water fall to Earth as precipitation, such as rain, snow, or hail." This one-page intro to the water cycle is part of Annenberg Learner's Weather module.
Environmental Education for Kids! The Water Cycle


"Infiltration happens when water soaks into the soil from the ground level. It moves underground and moves between the soil and rocks." For elementary students, EEK! offers a clickable water-cycle diagram, with a quiz, word search and a water poem. "The glass of water you're about to drink / Deserves a second thought, I think."
NASA: Precipitation Education


With videos, articles, glossary, FAQ and interactive activities for K-12, NASA has lots of resources for learning about the water cycle, weather, and climate. "Contrary to popular belief, raindrops are not tear shaped and are actually shaped like the top of a hamburger bun, round on the top and flat on the bottom."
… Click to continue to Water Cycle
Printables Club Members Also Get …
Surfnetkids Printables Club Members also get the following printables to use in the classroom, the computer lab, the school library, or to send home with students:
Water Cycle Printable
Water Cycle Wikipedia Printable
El Niño Printable
Weather Printable
Clouds Printable
Rivers Printable
*** Are you curious? Get your own ten-day trial membership:
https://www.surfnetkids.com/printables-club/
Related Games
Water Cycle Quiz
Water Cycle Word Search
Quote of the Week
"It suddenly struck me that that tiny pea, pretty and blue, was the Earth. I put up my thumb and shut one eye, and my thumb blotted out the planet Earth. I didn't feel like a giant. I felt very, very small." ~~ Neil Armstrong ~~ (born August 5, 1930 – August 25, 2012) American astronaut and first person to set foot on the Moon. Click this link for more quotes from Niel Armstrong.
Surfing the Calendar
Adopt-a-Shelter-Cat Month
June
National Rose Month
June
Cancer From the Sun Month
June
Dairy Month
June
National Rivers Month
June
National Fireworks Safety Month
June
Great Outdoors Month
June
Zoos: Zoo and Aquarium Month
June
Aquariums: Zoo and Aquarium Month
June
National Fresh Fruit and Vegetable Month
June
National Pollinator Week
Jun 22-28, 2020
Summer Begins
Jun 22, 2020
Summer Reading Begins
Jun 22, 2020
Summer Solstice
Jun 22, 2020
Fairy Day
Jun 24, 2020
John Adams' Alien Act Approved
Jun 25, 1798
Eric Carle's Birthday
Jun 25, 1929
Battle of Little Bighorn
Jun 25-26, 1876
Start of Korean War
Jun 25, 1950
CN Tower Opened
Jun 26, 1976
Mildred J. Hill Composes "Happy Birthday to You" Melody
Jun 27, 1829
Tour de France
Jun 27 – Jul 19, 2020
Helen Keller's Birthday
Jun 27, 1880
National Camera Day
Jun 29, 2020
Wimbledon
Jun 29 – Jul 12, 2020