Dear Reader,
Today's topic is inspired by both the recent Disney+ streaming release of the Hamilton movie, and the upcoming anniversary of the Hamilton v. Burr duel, which took place on July 11, 1804.
Have you watched the Hamilton movie yet? Are you going to? I saw the musical three times (loved it each time) and I'm sure I will see the movie sometime this summer, but I haven't yet signed up for Disney+.
See ya on the Net,
Barbara J. Feldman
"Surfing the Net with Kids"
https://www.surfnetkids.com

Aaron Burr
https://www.surfnetkids.com/resources/aaron-burr/
Aaron Burr Printable(** for Premium Members only)
https://www.surfnetkids.com/printables/files/printables-club/aaron-burr.pdf
Aaron Burr Jr. (February 6, 1756 – September 14, 1836) was the third Vice President of the United States (1801–05), serving during President Thomas Jefferson's first term. Despite his successful career as a politician and lawyer, Burr is frequently remembered for killing his political rival Alexander Hamilton in a duel (1804), and for his (unrelated) arrest on charges of treason in 1807.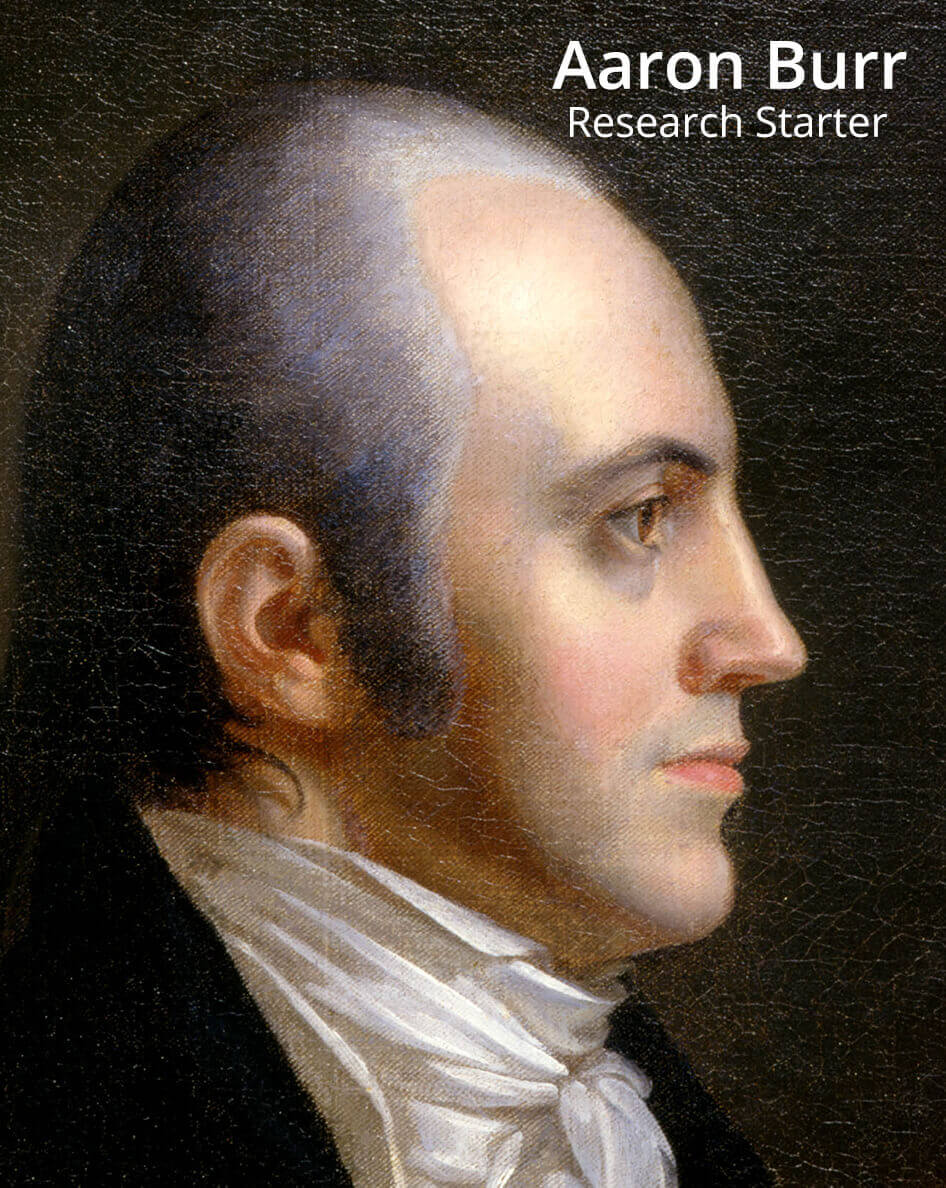 Biography: Aaron Burr


"Aaron Burr was born in Newark, New Jersey, on February 6, 1756, to a long line of English gentry who had been active in politics. Burr's father was a Presbyterian minister and the president of the College of New Jersey. After the loss of both of his parents, Burr and his sister went to live with their wealthy maternal uncle." Visit for quick facts and a one-page Aaron Burr biography.
Eyewitness to History: Duel at Dawn 1804


"The relationship between Alexander Hamilton and Aaron Burr was charged with political rivalry and personal animosity. Alexander Hamilton, the nation's first Secretary of the Treasury, was the chief author of The Federalist Papers advocating a strong central government. Burr represented the old Republican Party." Learn about the famous duel from two first-hand accounts: one written jointly by Burr's and Hamilton's seconds (their assistants); the other by the attending physician.
PBS: The Duel


"Aaron Burr, grandson of the theologian Jonathan Edwards, served with distinction in the Revolutionary War and was nearly elected the nation's third president. In 1804 they [Burr and Hamilton] met in a duelan honor match that changed the course of American history." This is a companion site to the PBS movie of the same name. Visit for Special Features (articles on topics such as History of Dueling in America), a timeline, synopses of related Peoples & Events, and a Teachers Guide that includes classroom discussion questions.
… Click to continue to Aaron Burr
Printables Club Members Also Get …
Surfnetkids Printables Club Members also get the following printables to use in the classroom, the computer lab, the school library, or to send home with students:
Aaron Burr Printable
Aaron Burr Wikipedia Printable
Alexander Hamilton Printable
Thomas Jefferson Printable
George Washington Printable
American Revolution Printable
*** Are you curious? Get your own ten-day trial membership:
https://www.surfnetkids.com/printables-club/
Related Games
Thomas Jefferson Quiz
George Washington Quiz
American Revolution Quiz
Quote of the Week
"Live as if you were to die tomorrow. Learn as if you were to live forever." ~~ Mahatma Gandhi ~~ (October 2, 1869–January 30, 1948) Indian political and spiritual leader. Cool words from a cool dude; click this link to find more.
Surfing the Calendar
National Ice Cream Month
July
John Lennon meets Paul McCartney
Jul 6, 1957
Ringo Starr's Birthday
Jul 7, 1940
President McKinley Signed Resolution Annexing Hawaii
Jul 7, 1898
Fourth Harry Potter Book Released
Jul 8, 2000
Paula Danziger Died
Jul 8, 2004
Lituya Bay Tsunami
Jul 9, 1958
E.B. White's Birthday
Jul 11, 1899
"To Kill a Mockingbird" Published
Jul 11, 1960
Alexandar Hamilton v. Aaron Burr Duel
Jul 11, 1804
World Population Day
July 11, 2020
Etch-a-Sketch® Released
Jul 12, 1960
Family Feud Premieres
Jul 12, 1976
John Adams' Sedition Act Approved
Jul 14, 1798
Bastille Fortress is Stormed by Angry Parisians
Jul 14, 1789
Billy the Kid is Shot and Killed by Sheriff Pat Garrett
Jul 14, 1881