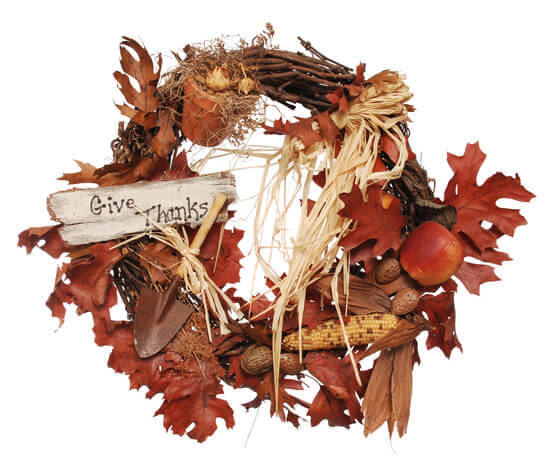 Decorating your porch for Thanksgiving can be a tricky thing. There are a lot of options to choose from in the way of porch decorations and you may purchase the normal variety of porch holiday accessories appropriate to Thanksgiving from your local retail and craft stores. If you are more inclined to make some of the decorations yourself here are a few ideas to get you started.
Nature Walk Wreath
You will need these items for your project:
•Objects you've gathered on a walk (like dried leaves, pine cones, twigs, acorns)
•Large grapevine wreath
•Floral wire
•Glue gun
Gather your family and/or friends for a nature walk and pick up plenty of items along the way that you would like to include on your wreath. It can be any wide variety of items including pine straw, dried leaves, twigs, acorns, seed pods and pebbles. Anything you see in nature that you want to put on your wreath, pick it up! It's totally up to you. Arrange all of your items on the grapevine wreath. The larger items can be woven into the wreath if you like. Attach the rest of the items to the wreath using your glue gun. Hang your beautiful new wreath on your door or somewhere on your porch. Your neighbors and guests will love your beautiful all-natural wreath and you will enjoy seeing it every time you pass by! Give people an object of conversation before they even enter your home with your own homemade wreath that will give you your own sense of satisfaction for an artistic eye and a crafty project well done.