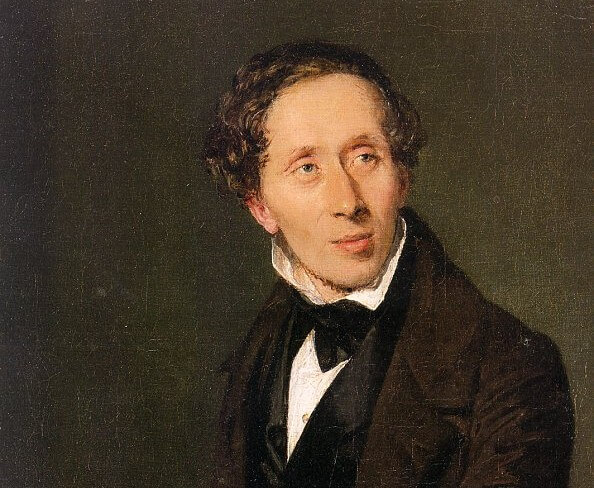 Hans Christian Andersen; a famous author and poet known mainly for his fairy tales like "The Little Mermaid", "The Emperor's New Clothes", and "The Ugly Duckling. As a fairy tale writer he made the lives of many children a little brighter and much more imaginative. His fairy tales have been translated into over a hundred different languages copied all over the world.
Childhood through Adolescence
•Hans Christian Andersen was born on April 2, 1805 in Odense, Denmark. Most of the world knows him by Hans Christian Andersen, but in Denmark and the rest of Scandinavia refers to him as H.C. Andersen.
•The Andersen family was in a lower class system but Hans' father believed that they were somehow related to nobility. Even his grandmother told him that their family had once been in a higher social class, but there was no evidence to prove any truth in it. To this day however, stories that Andersen was an illegitimate child of royalty were somewhat encouraged because the Danish King took such a personal interest in him. So much so, that he paid for Andersen's entire education.
•When Andersen was young he made himself a toy theatre and would put on plays using cloths for his puppets. He loved literature and was encouraged by his parents to read and absorb everything and anything he could. He had been known as a child to memorize entire plays written by Shakespeare and to recite them as he performed his own plays with his toy theatre.
•In 1816 his father passed away so in order to support himself he found work as an apprentice for a weaver and a tailor.
•When he was fourteen he moved to Copenhagen looking for employment as an actor in a theater. He was given an opportunity to perform in the Royal Danish Theatre because of his soprano voice, but when his voice changed his career as an actor was cut short. It was after this that he began to take writing more seriously.
•A man by the name of Jonas Collin sent Andersen to grammar school after meeting him accidentally. He took an interest in him and paid for all expenses to attend the school. Andersen had already published one of his stories by then (1822).
In 1872 Andersen had a bad fall and never fully recovered. He died on August 4, 1875 in a house called Rolighed. He wanted the music at his funeral to be lively because he thought most of the mourners would be children; his wishes were honored.