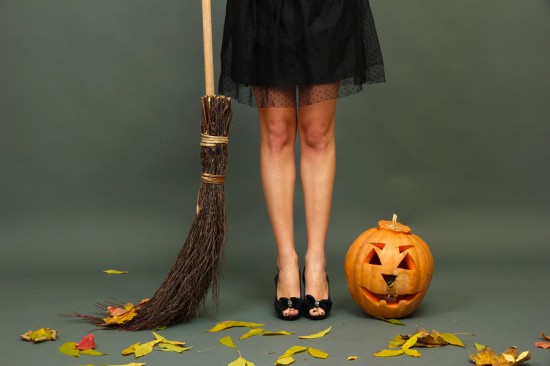 This is a much more difficult project that requires more patience and the more advanced dexterity of an older child or teen. While the project is time consuming the results are well worth it.
What you will need:
Block of wood cut into long slender triangle shapes
Pencil
Craft paints in black, white, peach, burgundy, and white
Paintbrushes
Sponge, optional
Black crepe paper
Olive green paper twist
Masking tape (or black electrical tape)
Black permanent marker
Instructions for the project:
Using the pencil draw the shape of the face on the wood. Paint all the area around the face black. Let dry completely. Paint your witch's face peach. Let dry completely. Draw on the facial features with the black marker. Carefully using a paintbrush or sponge, paint the cheeks. Use the marker to draw the fingers coming out of the witch's black sleeves. Paint the witch's fingers peach. You can decorate your witch by randomly painting stars using white paint on the hat and the dress. For the witch's hair unroll the paper twist and cut into long, thin strips. Use the masking tape (or black electrical tape), tape the hair into place. Carefully cut the bangs to length desired. For the hat cut a circle out of black crepe paper. Carefully cut a slit in the middle of the hat and slip the hat over the top of the witch. Take a length of paper twist and wrap around the top of the hat. Tape or glue in place.
Tip-For a variation you can paint the witch holding a sign that says "Happy Halloween" or "Trick or Treat"