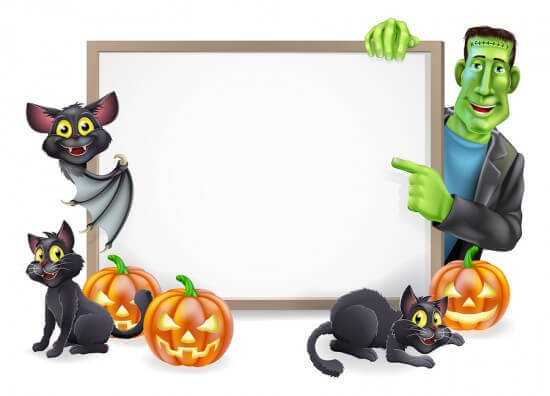 Most teachers, child care workers, or preschool teachers will have bulletin boards in their classrooms. They are a great way to display a student's work, reinforce lessons being taught, and add a little festivity to the classroom for holidays and seasons.
However, decorating bulletin boards can be both time consuming and expensive. A few tips for making bulletin boards easy to do include:
· Just make a border. Cover the back of the bulletin board with colored background or butcher paper (orange, black, or purple work well for Halloween) and make a fun and festive border, either purchased from a teacher supply store or made on your own. Then, use cut out letters to spell "Happy Halloween" or something similar and then use the students' work or projects to cover the remainder of the bulletin board.
· Decorate for fall. Decorating a bulletin board for fall is a good way to save time and is also easy. This way, you don't have to change bulletin boards for fall as well as Halloween. Simply use fall colors, like orange and brown, and just change the title of the bulletin board. Or, use a theme that encompasses fall and Halloween, like pumpkins or owls.
· Do a fun background. You can do a fun, festive Halloween background with black or orange paper, and then stretch cobwebs across the corners and put in fake spiders. Or, you can put cut-out gravestones on the bottom, and decorate the top and sides with ghosts, saving the middle for work by the students.
If you need some more inspiration, the following are some easy to do bulletin boards for Halloween that won't take a lot of time or materials.
Halloween Print-outs
This is an easy Halloween bulletin board in which the kids do all the work. A simple search on the internet for Halloween coloring pages or Halloween print-outs should bring up a wide range of pictures that have to do with Halloween, from pumpkins to bats and cats and witches. Have the kids color the pictures, and then cut them out and display them on the bulletin board.
Spiders
This bulletin board is easy to do and requires nothing more than a black background and a white permanent marker. Using the marker, draw a large spider web on the background. During class one day, have kids make spiders. This can be done with construction paper, pipe cleaners, or any other way you can think of. Classes can use this bulletin board in conjunction with a lesson plan on insects.
Fall Leaves
This idea is good for fall as well as Halloween, and can also be used as a unit for trees. Have the students cut out fall leaves (or you can do this yourself) and have them write their names on the leaves. Then, place the leaves by the students' work. The title of the bulletin board can be, "Falling for Math," or whatever it is the theme of the month is.
These are just a few very easy to do Halloween bulletin board ideas for teachers and childcare workers. You can find more easy ideas by doing online searches for Halloween bulletin board ideas, visiting a teacher supply store, or getting ideas from other teachers in your area.