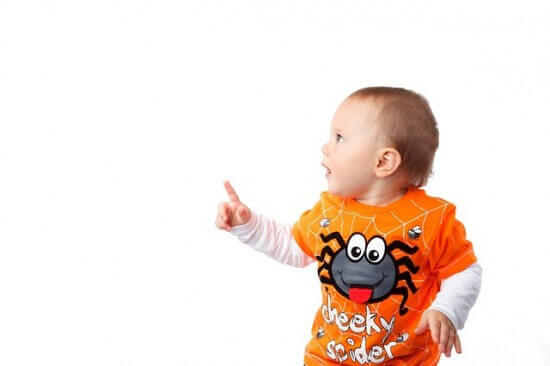 Your little toddler could very well win a prize at the next Halloween party if they are decked out in a cool costume. They don't really know what is going on, but you do, and that'all that matters. If they are dressed up in a cute costume, that'just compliments for you all night long. Dressing up your toddler in a costume and taking them to festivities will help form memories for them, and they will look at that time of year as they grow older as a fun time full of fond memories.
The easiest way to make a costume for a little toddler is to buy footie jammies. With footie jammies, you can glue pieces of felt, add a tail, or anything that sounds fun to do. A really cool thing to do is to take a little beany, glue felt ears to the top of it, and then glue/sew a tail to the back of the jammies. Maybe take a marker and draw paws onto the footie part of the jammies. With a little face makeup to make a nose and whiskers, they can pretty much be any animal you think of.
The mummy is probably one of the easiest costumes to make for a toddler because all you need are a couple rolls of toilet paper or paper towels. Have them hold still and wrap them from their neck all the way down to their feet. Make sure and wrap them loosely so they will be comfortable, and wrap the legs separately so they won't fall down. Make a little head piece for them to wear and they will be scarier than King Tut himself, and he is pretty darn scary. To add to the realism of the costume, powder some baby powder on their face and all over the costume (if making a mess isn't an issue). The powder will make them look like they have been collecting dust for a couple thousand years. It should look pretty darn cute when you are done with them.

Here is an idea that in most people'opinion is the lamest idea for a costume, but it is no doubt one of the funnier ones. Take a bunch of tin foil and wrap your kid in it just enough so they can walk around comfortably, but still be covered. Paint their face brown and you have a little baked spud. To be cute you can put something white on their head, such as pillow stuffings, and call it sour cream. The costume judges will just want to eat little Timmy up when they see he has been baked and sour creamed into a delicious bite sized morsel.
Speaking of bite sized morsels, turning your little kid into an M&M is another fun idea. Buy some white shoes, white stockings, white gloves, and white under armor. This will be the base of the costume. Take some brown, or red, or any solid color fabric, and cut out two large circles. On one side, cut a hole for your child to see out of. Also, cut out some little holes for their legs and arms to come through. After that, stuff it with some stuffing material, and call it good. Once your child is into the costume, paint the letters M&M on the back, and then paint their little face the color of the material of the costume. If that doesn't impress your costume judges, then I don't know what will. Playing the cute card for toddlers is the only way to go because it'just too precious for anyone to pass up.
Taking the time to make your toddler a part of the holiday spirit will make other people be more excited about it also. Halloween is a great opportunity to spend some time with your kids doing kid stuff. Be creative with them and have fun!