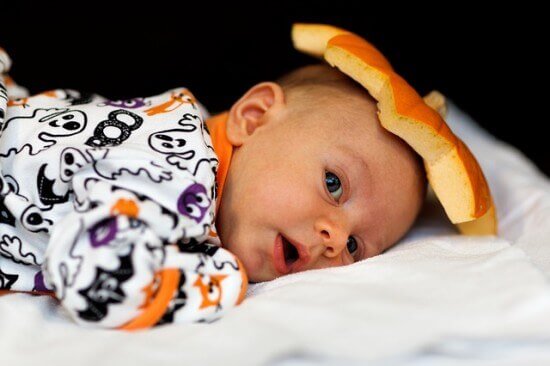 Dressing your little one up for Halloween is a fun way to incorporate them with the other members of the family who will be dressing up to go out trick-or-treating. There are lots of cute and comfortable ideas for your baby'Halloween costume. Below are just a few suggestions to get your creative juices flowing.
Buy Your Baby Costume
If you have a baby, you are certainly a busy woman. Some moms do not have the time to make a Halloween costume for their little one and therefore decide to buy one instead. If you are going to buy your baby'Halloween costume there are several places that you can look. You will want to keep safety at the front of your mind as infants will want to suck on and pick at whatever outfit you buy for them. Any store that sells baby clothes is likely to carry Halloween costumes during that season. For a wider variety you can also try looking online for a costume. The site, Buycostumes.com, is a good place to start. Buying your costume allows you to get your hands on an intricate and detailed costume that you may not be able to make yourself. For example, costumes like Superman, Batman, and Spiderman are very recognizable and you may not be able to duplicate the exact details of the costumes on your own.
Look for Comfort
Probably the most important thing that you will need to keep in mind whether you make or buy your infant'Halloween costume is comfort. For many areas of the country, late October has already become very cold. Make certain that your baby'costume is warm and made out of a comfortable fabric that will not irritate their sensitive skin. Your baby'costume should also be loose enough to allow movement (unless they are still young enough to be swaddled) but tight enough to keep in the warmth.

Make Your Baby Costume
For moms on a budget, there are lots of fun ideas for making costumes. In fact, with the following supplies as a base, you can make a costume of anything from a pea pod to a dinosaur. As a base you need a pair of sweat pants and a hooded sweatshirt. The pants and sweatshirt should also be the base color of whatever your costume is. For example, if you are making a dog costume, the base color is brown, for a dinosaur it would be green, etc. The other materials that you will need in order to add detail to your costume is felt and some sort of adhesive for the felt. You can use fabric glue, a needle and thread or removable Velcro. Use the felt to add spots to your puppy costume or fill two pieces of felt with cotton and attach them to the back of the sweatshirt and hood for dinosaur spikes. The possibilities are only limited by your imagination.
Incorporate Your Baby'Costume with the Rest of the Family
Another really cute idea for baby Halloween costumes is to incorporate your baby'costume with the rest of the family. One example of how you would do this is to dress the parents and siblings as butterflies and the baby as a caterpillar. Another fun idea is to have mom and dad dress as Dorothy and the Tinman, Lion, or Wizard from the Wizard of Oz, and have all the kids, including baby, dress as munchkins. The whole family can also dress in the same costumes to match. Some easy costumes to duplicate are ghost or pumpkin costumes.
Baby Halloween costumes can be some of the most fun costumes that you will ever make or own. Even though your little one may not be going around and collecting candy, he or she can certainly enjoy having time with the family and you are sure to have fun dressing your baby for Halloween.