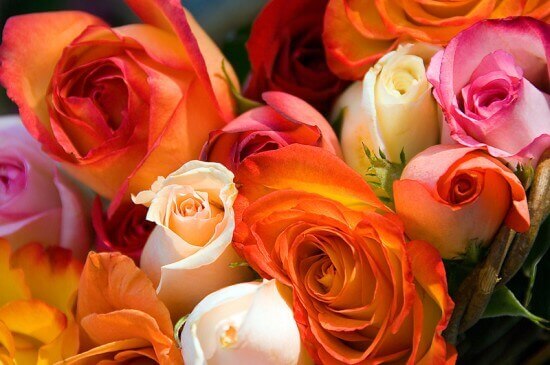 While Mother's Day may seem like a simple holiday set up to honor mom, it actually has several fascinating facts. Here are a few Mother's Day facts-
Mother's Day has a long and varied history. There are historical records showing that there have been feast days to honor mothers, for centuries. The Mother's Day that we know and celebrate was first observed in the United States, in 1907.
The earliest celebration that was held to honor mothers dates back to an annual spring festival of ancient Greece. The festival was dedicated to Rhea, who was known as the Mother of the Gods. The Greeks would pay tribute to her, with honey-cakes, drinks and flowers at dawn. Many believe that flower buying for mom, even stems from the ancient Greek festival. Mother's Day is still the biggest flower-buying day in the year in many places. Some florists report that each year sales increase by an average of 70% on a normal day's trading. More cut flowers and houseplants are bought for mothers than on Valentine's Day for our partners!
Mother's Day was the brainchild of Anna Jarvis of Philadelphia. After caring for her mother, for several years, until her death, Miss Jarvis decided that this would be a special way to honor her deceased mother. Two years later, Miss Jarvis and her friends began an intensive letter-writing campaign, to businessmen, congressman and even ministers, urging them to create a Mother's Day observance.
The United States Congress finally passed legislation in 1914 that designated the second Sunday in May, as Mother's Day.
There are certain gifts that remain popular for Moms. Perfume is one of the most popular gifts, along with flowers and jewelry, for moms everywhere.
There are several thousand florists nationwide, with hundreds of thousands of employees. They will find themselves especially busy putting together flowers, for Mother's Day. Interestingly, most of the flowers sold on Mother's Day come from California or Columbia, due to the seasonal growing patterns.
The several thousand employees, who work at greeting card publishers and stores, will also find themselves extremely busy. Mother's Day ranks as one of the top three holidays for sending cards, along with Christmas and Valentine's Day.
The other employees who will find themselves with lots to do are the several thousand workers who staff jewelry stores nationwide. Jewelry of all types and in all price ranges remains a popular gift for moms everywhere.
In many places, Mother's Day is celebrated on the 4th Sunday in Lent, but in other countries around the world, it is celebrated at different times. In Europe most countries use the second Sunday in May to honor their mothers, as do the Americans. May 10th is the day that is dedicated to mothers in many Asian and Middle Eastern countries.
There are many countries that use a particular flower to celebrate Mother's Day. In Canada and the United States, the traditional Mother's Day flower is a carnation. Either a pink carnation is given to mothers to represent love for them, or white carnations worn in respect for those mothers who are no longer living. In addition, spring flowers are also strongly associated with Mothers Day. Many people choose from flowers such as tulips, scented narcissi and daffodils for an authentic Mother's Day bouquet.
Yugoslavia (Bosnia) may have the strangest Mother's day custom. On the second Sunday before Christmas, children sneak in and tie their mother's feet to a chair, shouting 'Mother's Day, Mother's Day, what will you pay to get away?' Surprisingly, she then gives them presents!