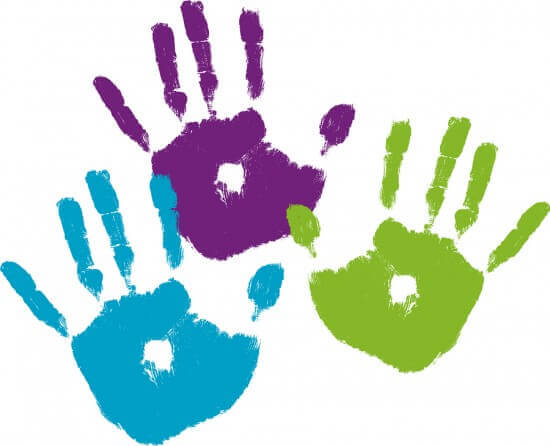 Mothers love anything that their children make. If you are looking for a great craft for a school Mother's Day project, or just want the mom in your life to be impressed, these handprint poems can make lovely additions to certain crafts. Simply having children paint their hands and add the handprints to a printed copy of one of these poems is sure to warm Mom's heart on Mother's Day. Whether you are putting together a quilt, or drawing a simple picture, including the tiny handprints of children along with one of these handprint poems can create a gift that will not be forgotten. Here are some Mother's Day handprint poems-
This poem would make a lovely addition for a grandmother or other family member living far away-
I miss you when we're not together; I'm growing up so fast
See how big I've gotten, since you saw me last?
As I grow, I'll change a lot, the years will fly right by.
You'll wonder how I grew so quick, when and where and why?
So look upon this handprint, that's hanging on your wall.
And memories will come back of me, when I was very small.
This poem would be perfect to add to not only handprints, but a picture of the child as well-
Children have a certain way of growing bigger every day,
But these little hands and this special smile
Will stay in our hearts a long, long while.
Moms will cherish the handprints that go along with this special poem-
Sometimes I might upset you, because I am so small
And always leave my fingerprints on furniture and walls.
But everyday I grow a bit, and soon I'll be so tall
That all those little fingerprints, Will be so hard to recall.
So here's a special handprint, just so that you can say
This is how my fingers looked, when I placed them here today
Many moms will be able to relate to this lovely poem-
You always clean the fingerprints I leave upon the wall.
I seem to make a mess of things, because I am so small.
The years will pass so quickly, I'll soon be grown like you
And all my little fingerprints will surely fade from view.
So here's a special handprint, a memory that's true.
So you'll recall the very day I made this just for you!
There is a wide variety of handprint crafts that would let you showcase the child's handprints and one of these poems. Here is an idea to get you started-
Clay handprint ornament-This darling ornament will be treasured by mom for preserving her little's one handprint and mean more with one of these poems attached.
What you will need:
Polymer clay
Large circle cookie cutter or cottage cheese lid, bowl, etc to create circle
Acrylic Paint
Two Eye Screws (or bend loops out of a paperclip)
Ribbon for hanging
Permanent marker for writing the poem
Directions for the project: Begin by kneading a large bowl of the clay, in order to soften it. Polymer clay softens as it warms. Once the clay is soft enough, use a rolling pin or other tube in order to flatten it and cut out the circle as large as you want. Remember that you will have to work quickly so the clay will stay soft. Press the child's hand into the clay. You will need to press firmly to get a good impression. At this point you will want to attach the eye screws or paper clip for hanging. At this point you will bake the clay according to the package directions. Make sure that you don't overcook it as the clay can burn. Let cool completely.  Once the clay is completely cool, the child can paint their clay ornament. Once the paint is completely dry, one of the poems can be copied onto the back or a tag attached to the ornament. As a finishing touch hang a ribbon or string on for hanging.