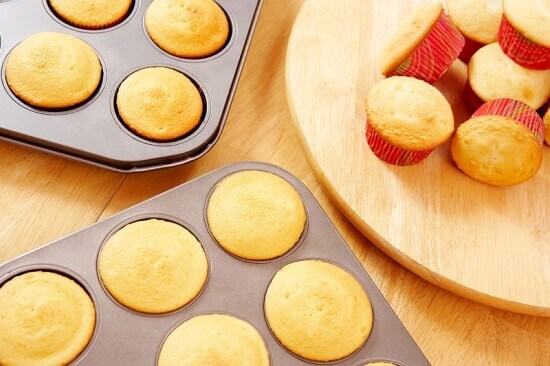 There is no reason to stick with the everyday and ordinary, when it comes to Mother's Day gifts. Using just a little bit of creativity, you can show Mom how you feel about her on her special day. While these ideas take a little planning, they are easy to put together and the results are spectacular. Mom will be bowed over with the thought that you have made something special just for her. Best of all you can personalize these crafts to fit the tastes and preferences of your Mom. Here are some creative ideas for Mother's Day-
Sunflower Cupcake Bouquet-There no reason to settle for a plate or ordinary cupcakes, to let Mom know you think she is special. 
Instructions for the project: Start by filling a terra cotta flowerpot with dry floral foam. Then you will carefully insert a bamboo skewer into the center of the floral foam in the pot and place a floral foam sphere or Styrofoam ball on to the skewer. Keep in mind that the foam ball should be the same approximate diameter as the flowerpot. You may wish to mask the floral ball. This can be done in a variety of ways. You can wrap tissue paper or decorative baker's foil around the ball before inserting it on to the skewer. You can also put the cupcakes in place and then insert stems of faux green leaves, bows, or tissue paper flowers used to fill in the gaps.  Bake a batch of your mom's favorite flavor cupcakes, using paper baking cups. Pick up prepared decorator's icing in a sunflower yellow color and put it into a pastry bag fitted with a rosette tip. Carefully pipe a bit of frosting in the center of the cupcake and place an Oreo cookie on top. Carefully pipe some rosettes around the Oreo cookie on to the top of the cupcake, to resemble sunflower petals. Insert the skewers into the floral foam ball and the slide a cupcake onto it from the cupcake's bottom. Arrange cupcakes into a pretty bouquet. You can finish it off with a bow, which can hide any floral foam that may be showing under the cupcakes as well.
Family Photo Tree Gift-Moms will adore this family tree present for Mother's Day. It works best to use flowering branches, so that there are lots of areas to hang photos of all of those precious family members and friends on. Pick out the pictures you want and then crop the images to about 3 x 3 inches. You will then need to back them with some sort of pretty paper. Using a hole punch, make a hole the corner of each photo and attach a ribbon. While this look great just as they are, you can also glue a metal word embellishment, on the end of the ribbon, like ones that are usually used for making a scrapbook. Keep in mind that using embellishments make it easy to hang the photo without having to tie the ribbon to the branch. You can just drape it over with the photo on one side and the metal word on the other.
Hire Mom the help she needs-If making something is not your inclination, there are lots of other ways to let Mom know she's special. Any mom would love the idea of some "hired help". If your Mom is looking for a new wardrobe, then set her up with a personal shopper who can help her complete her look. If your Mom would love a break from cleaning the house or taking care of the garden, even a one time housekeeper or gardener can make a great gift. Even if you can afford to engage someone to do it repeatedly, a one time break from house cleaning, or yard care, can be a treasured break.