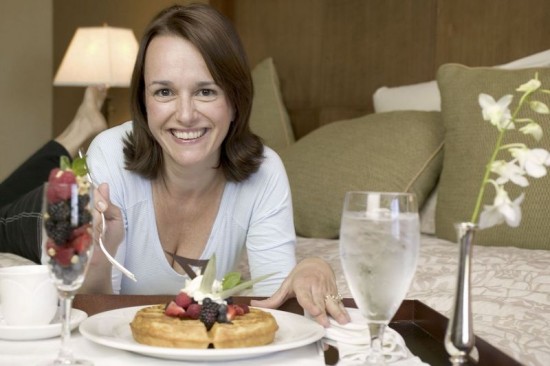 The following are some great Mother's Day ideas for a perfect day of honoring and celebrating your mother:
Food: Eating is a big part of celebrating. You can use food as a great way to show mom how much she matters. It is most poignant because if she does not have to prepare it herself, it is much easier to eat it. Just remember, most moms do not get to sit through a whole meal, they are always getting up to get someone something. So, turn off the phones, set the table properly, and make sure that someone else is going to get up if there is a reason to.
Breakfast in Bed: First, unless you are having a Mother's Day brunch, which is fairly traditional, consider serving breakfast in bed to your mom. She should not have to get off her bed at all and be served a delicious meal. Try to make her favorites, and offer a spattering of goods, drinks, etc.
Lunch out: Next, take your mom out to lunch. Again, no work for her. let her pick the restaurant, or make a reservation at a place that you know she loves. If you are not the kind who eat out on a Sunday, or are having a brunch, then just be sure that her mid meal is not prepared or cleaned up by her.
Family Dinner: Make sure mom does not have to cook. Moms love when their whole family sits down together for dinner, so have everyone there, and the meal ready to go so that mom just has to sit an eat.
Activities: Part of celebrating Mother's Day is having Mother's Day themed activities.
Memory sharing: While you sit down at a table to eat, take a few minutes to go around the table and have each person share their favorite memory. Your mom is going to love hearing all of the things you remember and appreciate about her and while growing up.
Gift giving: One of the activities can be the presentation of and opening of the Mother's Day gifts. Of course, this only works if everyone gets a Mother's Day gift, so don't forget to do that.
Poems and prayers: Another good activity for Mother's Day is recitation of poems, prayers, and scripture, or other things that bless and thank mother for all that she does.
Gifts: When you celebrate someone, gift giving is usually involved.
Personal items: You can give them pictures, memory books, and personalized trinkets.
Experience gifts: Another great gift option is that of an experience. You can send them for a little over night stay, or to see their favorite musician.
Mother's Day is a fun holiday, it is a great way to celebrate your mother and honor her. Use these ideas to make it easier to plan something special.