Dear Reader,
Thank you so much for your replies of good news! I needed them last week. This week I have good news to share. First, I am grateful to to be alive in an era of amazing medical miracles. After a few stressful weeks, my husband got in to see a specialist and is scheduled for a minor procedure next week. Woot! This is exactly what we were hoping for.
Second piece of good news. Are you familiar with the Yiddish word "nachas"? It is parental pride in the achievements and happiness of our children. A few months ago I was bursting with happiness at the wedding of our son. And this week we were thrilled to learn that our daughter won a prestigious award honoring her medical research. Nachas, indeed!
Thanks also for your encouraging words about the work I do every week at Surfnetkids. Your support is the only reason I'm still doing it 22 years later. I remember when I first started writing a weekly Surfnetkids column (which was syndicated in newspapers nationally), my bio called me a mother of two young children. I kept that bio for a few years longer than I should have! How come they grow up, and we don't age? LOL
See ya on the Net,
Barbara J. Feldman
"Surfing the Net with Kids"
https://www.surfnetkids.com

Alexander Graham Bell
https://www.surfnetkids.com/resources/alexander-graham-bell/
Alexander Graham Bell Printable(** for Premium Members only)
https://www.surfnetkids.com/printables/files/printables-club/alexander_graham_bell.pdf
Alexander Graham Bell was born March 3, 1847 in Edinburgh, Scotland. March is also the anniversary of his most famous invention: the telephone. In 1875, after receiving a patent for the transmission of multiple telegraph signals on a single wire, Bell and his assistant Thomas Watson, set out to invent the telephone. Success came on March 10, 1876.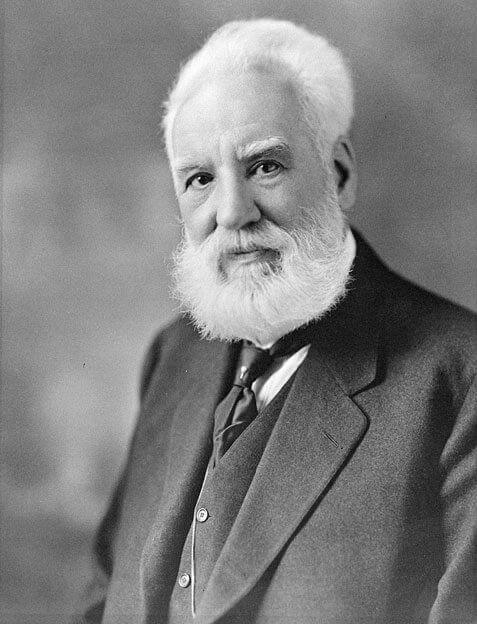 Biography: Alexander Graham Bell


"Bell's education was largely received through numerous experiments in sound and the furthering of his father's work on Visible Speech for the deaf. Bell worked with Thomas Watson on the design and patent of the first practical telephone. In all, Bell held 18 patents in his name alone and 12 that he shared with collaborators." Visit Biography.com for quick facts, Bell quotes, and three videos, including a full-length (43 minute) biography video.
CBC.com: It's Alexander Graham Bell Day


Alexander Graham Bell was nominated in 2004 as one of Canada's favorite sons. This page tells Bell's story, with emphasis on the time he spent in Canada. "Although Bell was born in Scotland, he moved with his parents to Ontario [Canada] when he was 23. He ended up moving and settling in the United States just a year later, but he bought a summer home in Nova Scotia [Canada] in 1885, and ended up living there until he died."
Ducksters: Alexander Graham Bell


Bell "first became interested in the science of sound because both his mother and wife were deaf. His experiments in sound eventually let him to want to send voice signals down a telegraph wire." Elementary and middle-school students should visit Duckster for fun facts, and links to bios of other inventors and scientists.
… Click to continue to Alexander Graham Bell
Printables Club Members Also Get …
Surfnetkids Printables Club Members also get the following printables to use in the classroom, the computer lab, the school library, or to send home with students:
Alexander Graham Bell Printable
Alexander Graham Bell Wikipedia Printable
Printable Alexander Graham Bell Quiz and Worksheet
Thomas Edison Printable
*** Are you curious? Get your own ten-day trial membership:
https://www.surfnetkids.com/printables-club/
Related Games
Quote of the Week
"Concentrate all your thoughts upon the work at hand. The sun's rays do not burn until brought to focus." ~~ Alexander Graham Bell (March 3, 1847 – August 2, 1922) American inventor. Click the link for more quotes about determination.
Surfing the Calendar
Irish American Heritage Month
March
National Craft Month
March
National Nutrition Month
March
Music in Our Schools Month
March
Women's History Month
March
National Cheerleading Safety Month
March
Franklin Delano Roosevelt is inaugurated as President
Mar 4, 1933
National Grammar Day
Mar 4, 2018
Boston Massacre
Mar 5, 1770
Michelangelo's Birthday
Mar 6, 1475
Fall of the Alamo
Mar 6, 1836
U.S. Patent Issued for Alexander Graham Bell's Telephone
Mar 7, 1876
Barbie Doll Debuts
Mar 9, 1959
US Paper Money Issued
Mar 10, 1862
Harriet Tubman Day (the Anniversary of Her Death in 1913)
Mar 10, 2018
Death of John Chapman, celebrated as Johnny Appleseed Day
Mar 11, 1845
First Flu Case in the Influenza Epidemic of 1918 Reported at Fort Riley, KS
Mar 11, 1918
Daylight Saving Time Begins
Mar 11, 2018
Sir William Herschel Discovers Uranus
Mar 13, 1781
Deaf History Month Begins
Mar 13, 2018
Albert Einstein's Birthday
Mar 14, 1879