Dear Reader,
It's been a month since I left the house to dine at a restaurant with friends. I remember that as the day BEFORE I realized that staying home was the best choice for my health and for our public health. Today it feels like it's been a very long month. How are you doing?
See ya on the Net,
Barbara J. Feldman
"Surfing the Net with Kids"
https://www.surfnetkids.com

Gardening
https://www.surfnetkids.com/resources/gardening/
Gardening Printable(** for Premium Members only)
https://www.surfnetkids.com/printables/files/printables-club/gardening.pdf
Spring is here, and many of us are practicing social distancing by staying home. If you are fortunate enough to have access to a garden that allows you to keep a safe distance from others, now is the time to turn your devices off, and go plant something tasty, beautiful, or both. The gardening experiences we give our kids today become the great gardening memories of tomorrow.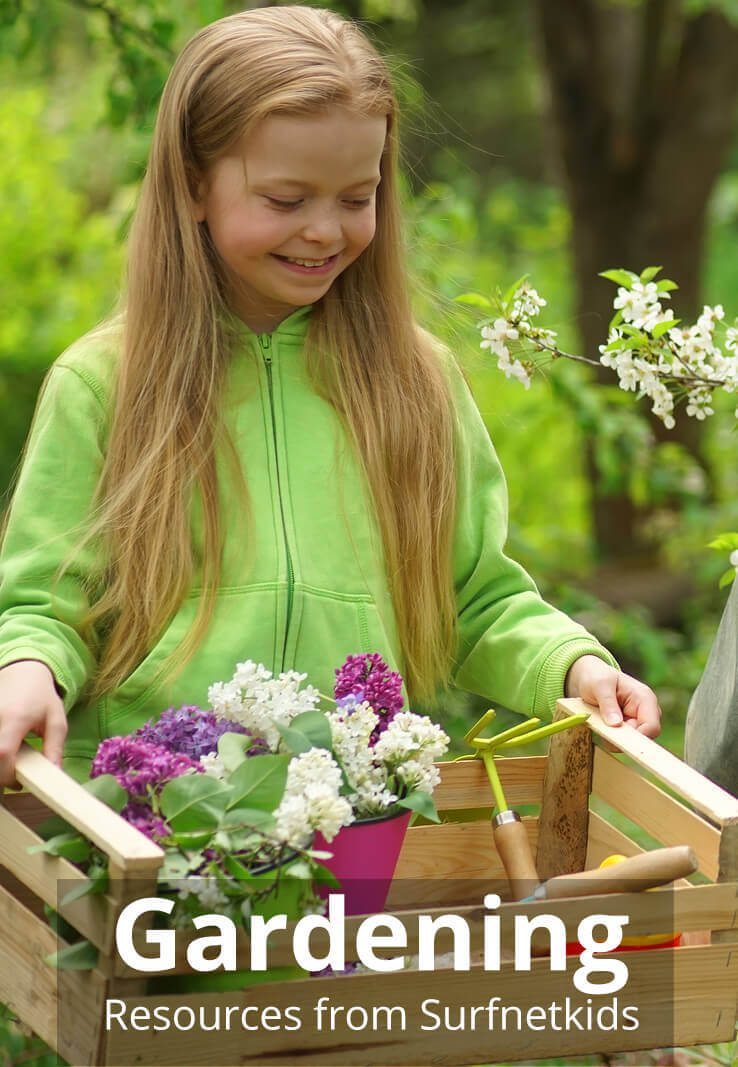 Eartheasy: Gardening with Children


"Working in a garden, a child can experience the satisfaction that comes from caring for something over time, while observing the cycle of life firsthand. Gardening gives children a chance to learn an important life skill, one that is overlooked in standard school curricula. Gardening is also a great way to teach environmental awareness by exploring the workings of nature." Visit Eartheasy for a top-ten list of what to plant and tips for gardening with kids.
Exploratorium: Science of Gardening


"Like all great endeavors, gardening is both a science and an art. See how the plants we tend feed our bodies, our minds, and our senses." This multimedia exhibit is divided into Feed, Control, and Bloom. It covers topics as diverse as carnivorous plants, the science of soil, the benefits of biodiversity, humongous pumpkins, and the secret lives of flowers.
KidsGardening.org: Gardening Toolbox


KidsGardening.org is a non-profit supporting "garden-based education" for kids. The Gardening Toolbox section includes advice on Gardening Basics and Gardening Activities, along with a Plant of the Month feature. Teachers will find curriculum and other classroom ideas listed under the Educator Resources menu item.
… Click to continue to Gardening
Printables Club Members Also Get …
Surfnetkids Printables Club Members also get the following printables to use in the classroom, the computer lab, the school library, or to send home with students:
Gardening Printable
Gardening Wikipedia Printable
Bird Feeding Printable
Monarch Butterflies Printable
Vegetable Gardening Printable
*** Are you curious? Get your own ten-day trial membership:
https://www.surfnetkids.com/printables-club/
Related Games
Garden Tool Concentration
Gardening Coloring Pages
Quote of the Week
"Gardens are not made by singing "Oh, how beautiful," and sitting in the shade." ~~ Rudyard Kipling ~~ (30 December 1865 – 18 January 1936) English author. Click the link to enjoy more Rudyard Kipling quotes.
Surfing the Calendar
National Kite Month
April
National Frog Month
April
National Garden Month
April
Distracted Driving Awareness Month
April
Financial Literacy Month
April
California Earthquake Preparedness Month
April
National Humor Month
April
National Mathematics Education Month
April
National Poetry Month
April
Thomas Jefferson's Birthday
Apr 13, 1743
Alfred Butts' (Inventor of Scrabble) Birthday
Apr 13, 1899
Leonardo da Vinci's Birthday
Apr 15, 1452
Assassination of Abraham Lincoln
Apr 15, 1865
Titanic Disaster
Apr 15, 1912
Paul Revere's Midnight Ride
Apr 18, 1775
San Francisco Earthquake
Apr 18, 1906
Pet Owners Day
Apr 18, 2020
National Park Week
Apr 18-26, 2020
National Library Week
April 19-25, 2020
Revolutionary War Begins with Shot Heard 'Round the World
Apr 19, 1775
National Volunteer Week
April 19-25, 2020
John Muir's Birthday
Apr 21, 1838
Lyrids Meteor Shower
Apr 21-22, 2020
Holocaust Memorial Day (Yom HaShoah)
Apr 21, 2020