Dear Reader,
"May you live in interesting times" is a curse couched to sound like a blessing. We most certainly are living through interesting times, and it's easy to count the many difficulties we currently face. So, tell me something good. What goodness are you finding in your current shelter-at-home life?
See ya on the Net,
Barbara J. Feldman
"Surfing the Net with Kids"
https://www.surfnetkids.com

How to Make a Face Mask
https://www.surfnetkids.com/resources/how-to-make-a-face-mask/
How to Make a Face Mask Printable(** for Premium Members only)
https://www.surfnetkids.com/printables/files/printables-club/how-to-make-a-face-mask.pdf
The Center for Disease Control (CDC) recommends wearing cloth face masks in public when it is difficult to maintain proper distance from other people, such as when walking in a busy part of town or at the grocery store. They also recommend that we not use medical grade disposable masks, as those are urgently needed by healthcare workers. Simple, homemade cloth face coverings are fun and easy to make, and help keep us both busy and safe.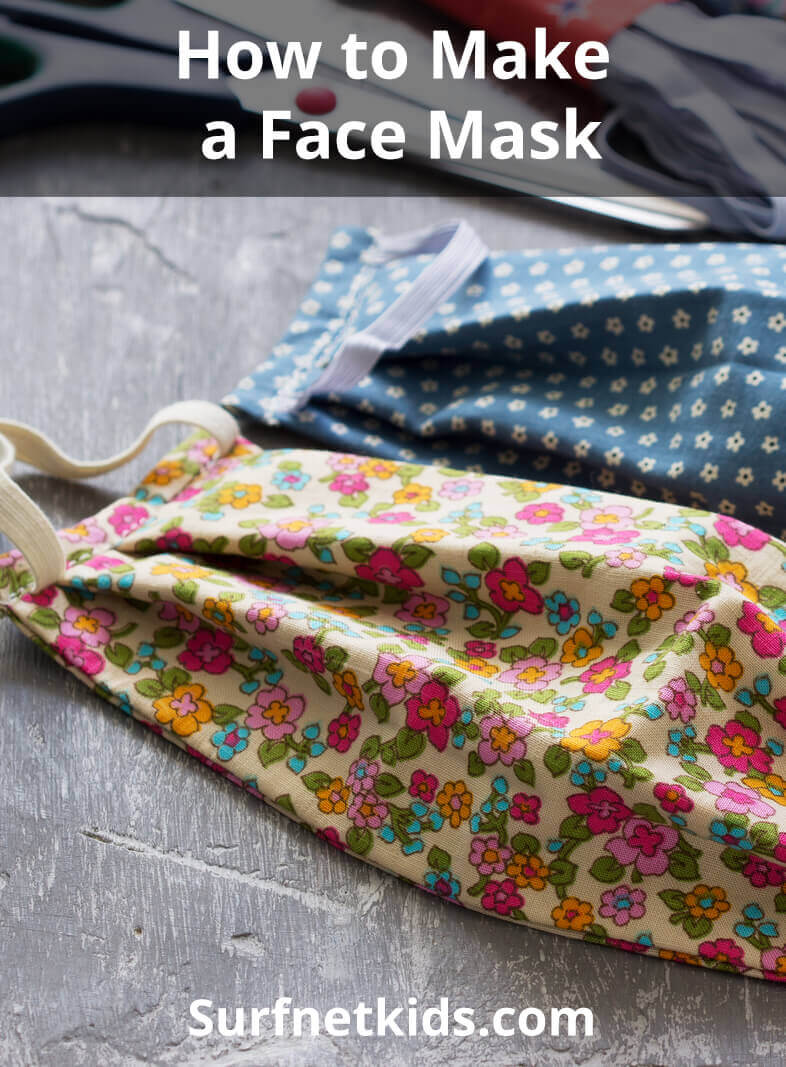 CDC: Use of Cloth Face Coverings to Help Slow the Spread of COVID-19


This CDC page is my pick of the week because it answers so many questions: How does one safely clean a cloth face mask? How does one safely remove a used cloth face covering? How should a face mask fit? It also includes tutorials on making both a sew and no-sew face covering from cotton material or a t-shirt. "Cloth face coverings should not be placed on young children under age 2, anyone who has trouble breathing, or is unconscious, incapacitated or otherwise unable to remove the mask without assistance."
Craft Passion: Face Mask Sewing Pattern


"Since the outbreak of the recent pandemic virus, I have been perfecting and improvising this face mask pattern to include all the features that are needed to fight against the spread of the disease," explains crafter Joanne L. These features include a slot for a paper filter and/or a nose wire to cinch the mask around your nose and create a better seal. Scroll down to the subhead "Face Mask Pattern Templates" for instructions and printable mask patterns in a variety of sizes and styles.
New York Times: What's the Best Material for a Mask?


"While a simple face covering can reduce the spread of coronavirus by blocking outgoing germs from coughs or sneezes of an infected person, experts say there is more variation in how much homemade masks might protect the wearer from incoming germs, depending on the fit and quality of the material used." The best fabric in the study? Quilting fabric made from high-quality, high-thread count cotton lead the pack, filtering 70 to 79 percent of airbound particles.
… Click to continue to How to Make a Face Mask
Printables Club Members Also Get …
Surfnetkids Printables Club Members also get the following printables to use in the classroom, the computer lab, the school library, or to send home with students:
How to Make a Face Mask Printable
Face Mask Wikipedia Printable
Handwashing Printable
The Flu Printable
Microbes Printable
*** Are you curious? Get your own ten-day trial membership:
https://www.surfnetkids.com/printables-club/
Related Games
Quote of the Week
"Humor is mankind's greatest blessing." ~~ Mark Twain ~~ (November 30, 1835 – April 21, 1910) American American humorist, writer. Click this link to find even more Mark Twain quotes.
Surfing the Calendar
National Kite Month
April
National Frog Month
April
National Garden Month
April
Distracted Driving Awareness Month
April
Financial Literacy Month
April
California Earthquake Preparedness Month
April
National Humor Month
April
National Mathematics Education Month
April
National Poetry Month
April
John Muir's Birthday
Apr 21, 1838
Lyrids Meteor Shower
Apr 21-22, 2020
Holocaust Memorial Day (Yom HaShoah)
Apr 21, 2020
Earth Day
Apr 22, 2020
Ecology Games for Earth Day
Apr 22, 2020
Endangered Species for Earth Day
Apr 22, 2020
Shakespeare's Birthday
Apr 23, 1564
Hubble Space Telescope Launched by Space Shuttle Discovery
Apr 24, 1990
Italy Liberation Day
Apr 25, 1945
World Penguin Day
Apr 25, 2020
Whydah Pirate Ship Sank Off the New England Coast
Apr 26, 1717
Richter Scale Day
Apr 26, 2020
Ulysses S. Grant's Birthday
Apr 27, 1822
National Playground Safety Week
Apr 27 – May 1, 2020
Harper Lee's Birthday
Apr 28, 1926