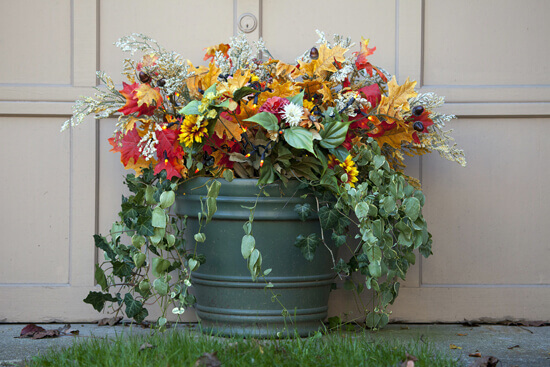 You will need these items for your project:
•Terra-cotta pot in any size (as many as you want)
•Fall colored tole paints
•Several different kinds of dried leaves
Lightly coat the backs of your dried leaves with paint and press to the outside of your flower pots. Since terra-cotta pots are orange in color already they are already a fall color but you may paint the outside of your pots a different color to add diversity to a multi-pot decoration for your porch if you wish to. If you decide to do so, allow the paint to dry completely before applying the leaf impressions as described above. Allow the paint to dry completely then fill your new decorations with anything you would like such as flowers, small pumpkins or squash, pine cones, dried leaves or any combination of these things. Your beautiful new flower pot decorations will brighten up your porch for the entire holiday season!