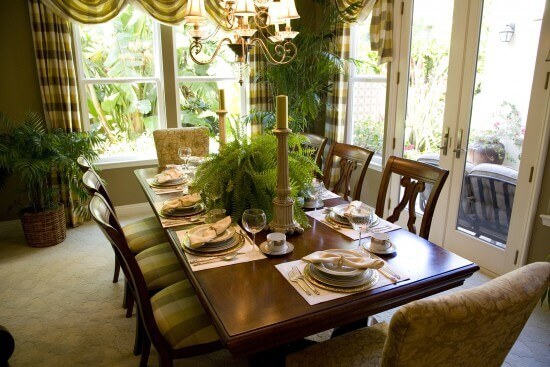 You may be stunned to realize that it's that time of year again. The holidays are just around the corner and here are some fresh ideas for Thanksgiving decorations. Between cooking and cleaning and setting the stage for celebrations, it can all be an overwhelming task. These easy Thanksgiving decorating ideas and tips will help you provide a festive environment for a holiday you will always remember. Here are some holiday decorating tips for Thanksgiving-
• Start at the entryway. Door wreaths will welcome all to your home and set the stage for celebrating. Make a simple wreath to hang on your front door with Thanksgiving colors like brown, russet, olive green. You can also use tree branches from your garden and attach a few gourds, nuts, raffia, and ribbons. You can also place a gorgeous mum by your front door. You can plant it later and get flowers next Thanksgiving to use inside your home. It just takes one bright spot near your front door to attract the eye of arriving guests.
• Set the Thanksgiving atmosphere. You can trigger your family's senses with visual and aromatic pleasures. Autumn decorations and scents are key to setting the mood for a hearty Thanksgiving get-together. Put out fall potpourri that will generate the scent that will get the party started. Consider some dry or liquid potpourri in a small crock pot to slowly fill the air with holiday fragrance. Candles can supply beauty, a delicate scent, and an overall "homey" feeling. There are some seasonal candles available specifically for the Thanksgiving holidays. You can choose adorned candleholders and jars or decorate your own with beads and acrylic paint.
• Take your inspiration from outdoors. By taking a nature hike outdoors you will find seasonal decorations absolutely free. Acorns from trees, leaves and vines will all provide some great ideas for wreaths and decorating your house for Thanksgiving.
• Be crafty! Weave some garland or check out your local craft store for some wicker baskets and make your own colorful centerpiece. Just add some miniature pumpkins, squash and Indian corn that are often sold in supermarkets, craft shops, and farmer's markets this time of year. You need minimal crafting skills to make a standout centerpiece.
• Go for quality. It pays to find at least one decoration that will stand the test of time. In order to last it will have to be durable (perhaps store bought) and be stored properly. On the bottom be sure to write the date it was first used. Your family will get used to this particular decoration and perhaps attached and as the years go by, it will become a conversation piece that will bring back many Thanksgiving memories.
• Use a great centerpiece. The most popular centerpiece choice is a fresh fruit basket and with good reason. This will serve two purposes. The splendor of the basket itself brings natural beauty and color to your table, and the fruit makes a nutritional snack that will complement any meal. If a fruit basket isn't your choice, display a bouquet or basket of fresh flowers on your table that complements your tablecloth and adds color. You can extend your flower arrangements with fall tree branches. Just one branch can make a huge impact.
• Simply display. You can use vegetables and mini pumpkins simply displayed on a tray. Use fall leaves, moss, raffia or wheat to fill in the gaps. If the orange shades clash with your home's interior, use green apples and spray paint the mini-pumpkins your colors. You can also use copper, bronze, and gold spray paint to dress up plain gourds. Just fill up a glass or crystal bowl with the gourds, oranges, and nuts.