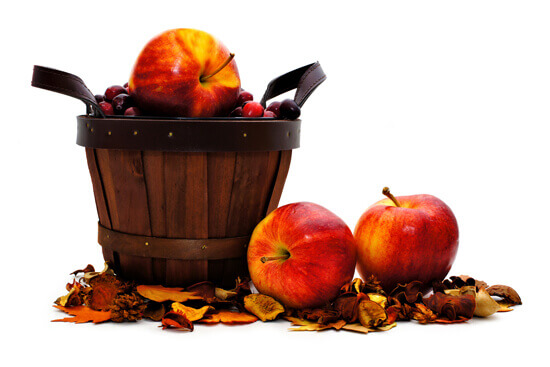 If you are looking for some great ways to involve your kids (or any other young guests) in the preparation for Thanksgiving dinner look no further. Here are five great ideas for Thanksgiving centerpieces you can make with the kids.
1.Thanksgiving Tablecloth while this is not technically a centerpiece, your creativity can result in a base for your table that no one will forget! This tablecloth features hand decorations by all the kids in your life.
What you will need-
Cotton table cloth to fit your table. Make sure the material is not highly finished which will prevent the ink from soaking in.
Fabric markers-these can be purchased at your local craft store and are specifically meant to write on fabric. Usually these dry quickly and do not need a finishing spray.
Time needed: Under 1 Hour
Instructions for preparation-
Set up the table cloth and markers in a central location and encourage everyone to write a fond memory or sentiment from the current year (younger kids can draw pictures to depict their message). It can be anything that demonstrates gratitude. Feel free to date the remembrances if you wish. After displaying your handiwork at the big feast, store the table cloth away until the same time next year when everyone can add a new round of thanks.
2.Apple candlesticks-This is a creative new way to display candles on your table that keeps with an autumnal theme. Keep in mind though that this project works best with older kids.
What you will need-
Large Rome Beauty apples (that will stand straight on the table)
Candles
Waxed paper
Potato peelers
Lemon juice
Time needed: Under 1 hour
Instruction for preparation-Using an apple corer, make a hole about halfway through the middle of an apple. Make the hole as straight as possible and remove the core piece. Insert a candle into the hole. It should fit tightly; if the hole is too large, wrap waxed paper around the candle's end. Older kids can then decorate the apples by carefully carving designs in the skins with the tip of a potato peeler (to prevent the designs from turning brown, rub them with lemon juice). Arrange the candleholders in a circle on a plate or cutting board.
3.Gourd turkey This is a fun way to create a unique centerpiece for your Thanksgiving table. This does require adult supervision if the kids are putting these together and seems to work best with a mixed group of kids who are several different ages.
What you will need-
Gourd
Round toothpicks
Pumpkin
Red chili pepper
Orange rind
Cloves
Corn husks or tamale wrappers
Tempera paints
Pair of red gloves
Time needed: Under 1 Hour
Instructions for preparation To create the turkey's face, push a few toothpicks halfway into one side of the gourd, and then attach it to the pumpkin by pushing the protruding toothpick ends through the pumpkin shell. Use the same method to attach the chili-pepper wattle. For eyes, use two orange-rind circles. Push a clove through the center of each one and into the gourd. Next, tint the corn husk feathers by dipping them into diluted tempera paints (2 parts water to 1 part paint) and attach them to the pumpkin with toothpicks. Set the completed pumpkin atop the red gloves so that the fingers resemble turkey feet.
4.Arts and Crafts centerpiece This type of centerpiece truly lets each little artist show what they can do.
What you will need
A 6-8 inch circle of poster board for each child
A cardboard toilet tissue roll for each child
Craft glue
Glitter
Assorted pinecones, acorn cups, and other assorted nature items
Dried flowers to put in the tubes
Instructions for preparation
Give each child a 6 to 8 inch circle cut from poster board and a cardboard toilet tissue tube. Have the children cover their tubes in glue and roll in glitter. Help the children glue their glittery tubes upright in the centers of their poster board circle. Then give them the small pine cones, acorn cups, and other assorted nature items to glue around the bases of their centerpieces. (Have the children sprinkle glitter all over their nature items, if desired.) Give the children dried flowers to put in their tubes.
5.Egg Carton Totem pole-As a nod to some of the first Thanksgiving participants consider making this centerpiece.
What you will need
Several empty egg cartons
Scissors
Craft glue
Assorted macaroni, foam shapes, glitter etc.
Instructions for preparation
Cut the egg cartons so that they have 4 rows of 3 cups. Glue each section together, back to back, to form totem pole. Decorate with colored macaroni, foam shapes or whatever you desire. Stand up on your Thanksgiving table for a fun accent.