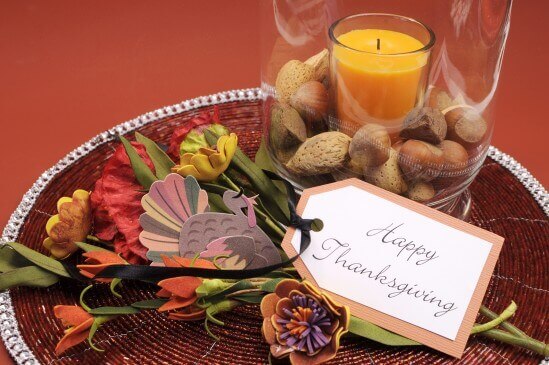 There is no more family-oriented holiday than Thanksgiving. You may want to include even your youngest guests with the preparations and decorations for the big meal. If you are at a loss as to how to decorate your tables this year, consider these ideas that can involve kids of almost any age. And the added bonus just may be keeping those little hands happy until dinner can be served! Here are some ideas for Thanksgiving centerpieces you can make with the kids.
Thanksgiving table runner-this project is one of the easiest to assemble the materials and put together.
What you will need:
A length of finished or hemmed material that will run down the center of your table.
Fabric stamp pads in a variety of autumnal colors
Several stamps with a Thanksgiving theme (for example turkey, pilgrim hat, cornucopia etc.)
Place the material out flat and allow the kids to stamp to their hearts' content. Cover the fabric with a collage of the stamps for a great look or if the kids are older considering laying out a pattern for them to follow. Allow the ink to dry and you then have a spectacular one of a kind table runner.
Thanksgiving Cornucopia-Instead of having one big centerpiece in the middle of the table consider using several small centerpiece. This way you have more chances for the kids to be able to help put them together.
What you will need:
Several small cornucopias depending on the size of the table
Assorted gourds, nuts, and leaves
Seasonal fruit and vegetables if desired
Place the empty cornucopias on the table where you would like them. Divide up the materials for them to be filled with and let the kids exercise their creativity in filling them. If you have several kids you can make this a contest with prizes for biggest, most unique, fastest cornucopia filled etc. In addition you can make changes on what you use to fill the cornucopia depending on what is available or reflective of your area.
A Thanksgiving Gratitude Journal-While this may not technically be a centerpiece this can be on the table for all the guests to enjoy as everyone seems to linger over dinner.
What you will need:
A beautiful bound journal (this works best if it has removable pages)
Assorted art supplies (for example-pens, markers, stickers, die cuts, glitter glue and even punches)
Remove the pages before dinner and give one to each of the kids. Tell them you want them to decorate each page by telling what they are thankful for. Have a designated table where the art supplies can be laid out and simply let the young artists go to work. Have the book reassembled before dinner and lying on the table. Guests will enjoy passing the book around and admiring the works of art.
Thanksgiving Garland-Consider decorating your table with Thanksgiving garland. The garland can simply be laid out to run the center length of the table or be woven through other centerpieces or even the dishes themselves.
What you will need:
Several large nuts with holes predrilled through the center. Good choices include unshelled walnuts and pecans.
Large fresh cranberries (these can have a hole punched through with a large needle)
Silk leaves with the a small hole pre punched if this is for younger kids. Older kids will be able to punch a hole through on their own using a simple hole puncher.
Several yards of decorating twine or wired ribbon (both available at craft stores)
Decide if you want the garland to include all the materials on each strand or just one of something. Tie a large knot on one end and let the kids begin stringing. When the end is reached simply tie another knot (most can be tied small or hidden in the item on the garland). You then have several yards of beautiful garland to use to decorate your table.