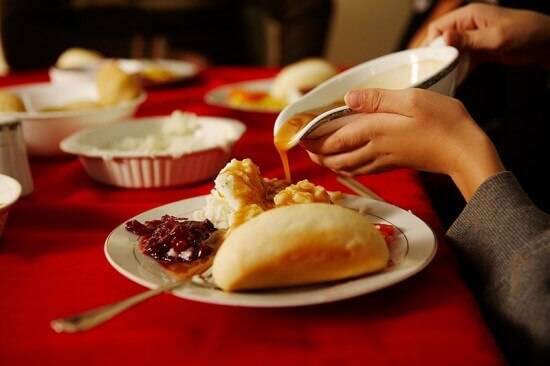 The table looks perfect festooned with all sorts of beautiful Thanksgiving table decorations, china and silver. A lovely cornucopia sits proudly as the centerpiece of the table surrounded by just the right amount of candles. The buffet table is almost groaning with all sorts of Thanksgiving delights. Your family and friends fill their plates and sit down to enjoy dinner when what do you hear, "Uhhhh that's gross! I'm not eating that!"? The universal cry of the picky kid-eater! But don't despair there is help! Here is your plan on how to make a kid friendly Thanksgiving dinner with recipes included.
The key to planning a kid friendly Thanksgiving is not to have to cook two meals. While you want to please all your guests no matter what age they are, the work of two complete menus is not what you are looking for on a cooking intensive holiday like Thanksgiving. So if you feel you need to plan an alternative for your younger guests, try to focus on dishes that can be combined with the main menu. You may find by using a little creativity that your older guests may want what the kids will be having!
The main stars of the meal may be the ones that need the least altercation for the younger set. Many kids are happy to try sliced turkey and mashed potatoes but in case they are not try the following substitution for those younger finicky palates:
Turkey-Instead of traditional roast turkey offer:
Chicken legs: these can be roasted alongside the turkey in the final roasting hours. Kids love being able to grab onto them. If simple roasting of the chicken legs won't do, then consider smearing them in honey and coating with crushed corn flakes. Fry the chicken until done for a sweet and crunchy entree for the kids.
Chicken tenders: Most kids will automatically gobble up these upscale versions of the chicken nugget. Lots of good chicken tenders come already breaded and ready for baking or frying but you can make your own quite simply with a basic egg and flour breading. Frying will give a better crunch but these can then be baked off in the oven for about 12-15 minutes at 350 degrees until cooked through. Offer them with a selection of dipping sauces-kids especially love ranch and sweet and sour sauce.
Mashed potatoes-Again this is generally a kid friendly choice if it is served without the upscale additions of roasted garlic, chives or sour cream that many adults will love. If plain mashed potatoes don't pass the test try these alternatives:
Sweet potatoes-Many adults are disbelieving that any child would eat these but with the added sweetness of this type of potato many kids will gobble them down. The color is another plus as kids prefer a colorful plate. While many adults may turn away from this overly sweet recipe try this-Mash your sweet potatoes to the same consistency of regular mashed potatoes. Add butter and a small amount of apple juice to bring the potatoes to the right consistency. When you feel they are the right thicknesses spread them into a gratin pan and cover with marshmallows. They will only need a quick brown in a 350 degree oven to melt the marshmallows and warm the sweet potatoes through.
Fries or tator tots-If all else fails open a bag of frozen fries or tator tots and oven bake for the best flavor. Offer a variety of dipping sauces for the kids and you are set.
Dessert-This is the highlight of any meal and especially Thanksgiving. While you don't want your youngest guests to feel left out, kids generally do not like the more grown up taste of pumpkin pie or other traditional offerings of the Thanksgiving dessert buffet. Try these for a sweet finish that even your youngest guest will like.
Sugar Cookies-This type of dessert can also serve as a craft to keep young guests occupied. Either bake your favorite sugar cookie recipe (this can be done even a few days before) or feel free to purchase already baked and undecorated sugar cookies from your local bakery. Cookies can be made into several Thanksgiving shapes to reflect the holiday spirit. Then all you need to do is provide your young guests with icing, candy sprinkles and other needed decorations for them to decorate their cookies and then eat them too!
Trifle-Many kids will eat the seemingly sophisticated dessert known as trifle. This is simple and easy to assemble. Simply choose a large bowl and layer your favorite cake (crumbled brownies or cookies will work too) into the bottom of the bowl. The next layers can be placed in any order. Use pudding, fruit and whipping cream to alternate with your cake layer. When you reach the top simply cover with whipping cream and refrigerate until time to serve. Kids love the creamy, sweet consistency of this dessert.