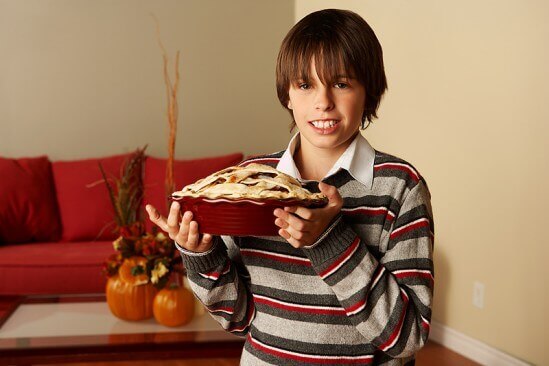 Dessert-No one wants to miss dessert so try these simple desserts for your youngest guests.
Gelatin molds-(this is also an easy way to get kids to eat some fruit!)
2-1/2 cups boiling water
1 pkg. (8-serving size) or 2 pkg. (4-serving size each) strawberry flavored Jell-O (you can use sugar free/low calorie)
1 cup cold orange juice
1 can (8 oz.) pineapple chunks in juice, drained
1 can (11 oz.) mandarin orange segments, drained
•Stir the boiling water into gelatin in large bowl at least 2 minutes until completely dissolved. Stir in the juice. Refrigerate for about 1-1/2 hours or until thickened (test by when spoon drawn through leaves definite impression).
•Stir in the fruit. Spoon into 6-cup mold sprayed with cooking spray. You can purchase holiday or seasonal molds for added fun.
•Refrigerate 4 hours or until firm. Unmold and serve.
Shortbread bars-Kids love this recipe because of the combination of chocolate and breakfast cereal
11/4 cups flour
1/4 cup granulated sugar
1/2 cup (1 stick) cold butter or margarine
1 egg, lightly beaten
1/3 cup maple-flavored syrup
1/4 cup firmly packed brown sugar
1 Tbsp. butter or margarine, melted
1 tsp. vanilla
11/2 cups crunchy breakfast cereal, any variety
1 cup chocolate chips
•Preheat oven to 375 degrees. Mix flour and granulated sugar in medium bowl. Cut in 1/2 cup butter until mixture resembles coarse crumbs. Press firmly onto bottom of greased 9-inch square baking pan. Bake 20 minutes or until very lightly browned.
•Mix egg, syrup, brown sugar, melted butter and vanilla until well blended. Stir in cereal and chocolate chips until well coated. Spread evenly over warm crust.
•Bake an additional 20 to 25 min. or until topping is firm around edges and slightly soft in center. Cool on wire rack. Cut into 16 bars to serve.