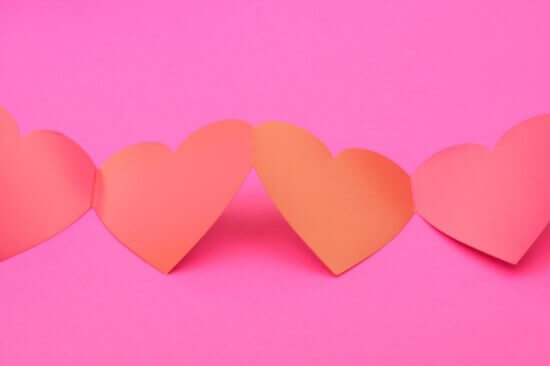 Valentine's day is a great day where you get to celebrate love, and what better way to celebrate the love you have with your children then to create fun kid friendly, easy crafts? You want to do easy crafts so that you can enjoy the results without spending too much time or getting frustrated in the process. The following are a few easy Valentine's Day crafts that you can do with your kids:
1. Googoo eyes. One of the most fun Valentine crafts to do with your kids plays on the age old idea that when you fall in love you get all googoo eyed over the person. So, what you need are the following items:
2 toilet paper rolls (no toilet paper on them)
2 springs, or wire to twist into springs
Paint or craft paper in Valentine colors
Heart shaped buttons
Tape
Glue
What you are going to do is make a pair of toilet paper roll binoculars, by taking the two rolls together. Then paint or decorate them in a Valentine themed color. Use some tape or glue to attach the heart shaped buttons to the end of the springs, and then attach the springs to the end of the binoculars. Then enjoy playing googoo eyes with your kids!
2. Plant pokes. This is a fun little Valentine craft that kids of all ages will enjoy making and using. These are heart shaped plat poke animal friends. This is a fun craft that uses Valentine's themed fun, to create a long lasting pal. So to make these easy crafts you need the following items:
2 heart shaped cut outs
stakes or pokes
Paint
Wood glue
What you do is you take two heart shaped pieces of wood and put one upside down, with the point at the center of the heart of the second one, and glue them together. Once it is dried, paint the entire thing the color of the animal you want it to look like, so brown for a cat, green for a frog, etc. Once the paint dries, use a permanent marker, or a fine paint brush to turn the upper parts of the right sided heart into ears, and to paint a face on the lower part, such as whiskers, eyes, etc. Once it is dry you can glue it to the stake, let that dry, and stick in a plant. This is a fun craft because it uses hearts and lovable friends to create a fun craft that is easy for kids with a little supervision.
When it comes to Valentine's Day crafts that are kid friendly your focus should be on making something that they can enjoy, such as an animal or a toy. It should be relatively simple, and not time consuming. Kids enjoy doing crafts, but do not want to wait forever. The dry time on the plant pokes in minimal, and the goo goo eyes take no time at all. They also want to be able to show off their work. By putting the plant pokes together, for instance you get something that they can show off in your home, and be proud of for months to come. Also, kid friendly crafts should take very few items. It can be difficult to keep track of too many things. So, minimize. This is a great plan for kid friendly crafts that are easy to make, and fun to hae.