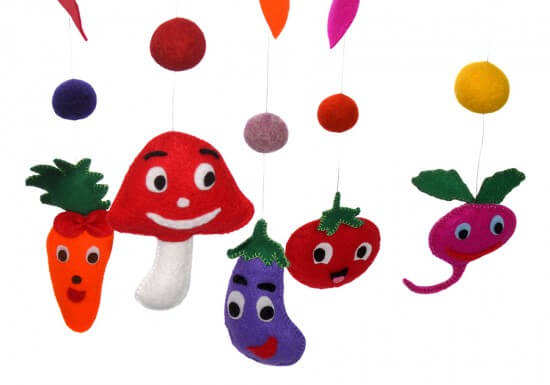 Mobiles are a great way to add life and variety to your decor. There are many different themes that can be used for mobiles and some of the best themes go along with holidays or special seasons. Here are some ideas for holiday mobiles to help you get started on your ideas.
When anyone thinks of a holiday, one of the first ones to come to mind is Christmas. Christmas is a time of year when people are thinking about many different things and one of the most common symbols of Christmas is Santa Claus and his reindeer. A very creative mobile can be made with Santa and his reindeer. It may not make sense to use all of them because it would either be a very large or very complex mobile. You can make the mobile very simple or complex depending on your capabilities and how durable and long lasting you are looking for your mobile to be. You can use things as simple as construction paper and old hangars or even Christmas ornaments. Right after Christmas can be a great time to search for things that can be used for your Christmas mobile because you will probably be able to get a great deal on the supplies you will need to complete it. Put Santa in the middle of the mobile or have them literally run around in a circle following Santa's sleigh.
Another great holiday for making a mobile is the 4th of July. It is a fun holiday for many people and there are all kinds of twists that can be made on the theme for the mobiles. Stars and flags in red, white and blue are a great choice or you can even use little fireworks. Summertime is also a theme that goes with the 4th of July and you can use ice cream cones or watermelon slices and other summer themed items for the mobile. This can be a great way to teach your kids about holidays of the summer and to learn new skills by making a craft in the house. It is also a great time for the kids to come inside for a little while and do something with friends on a hot day. Mobiles are traditionally associated with baby's bedrooms, but they can really be used to decorate any area of the house.
Halloween is another very popular holiday that can be great for making a mobile. A mobile is a great way to decorate for Halloween without all of the fake spider webs around the house or the other scary things that come around at Halloween time. Some great items to put on a Halloween mobile are cutouts of pumpkins, candy corn, bats, or even witches hats. Other Halloween themes can include different types of monsters or ghouls. Little ghosts can also be a great theme for your Halloween mobile. You can make little ghosts out of suckers and tissue paper by wrapping the round sucker with the white tissue paper and tying a ribbon around the base of the sucker to make the head.
Another popular season for making a mobile is spring. There are many exciting things that happen in spring like the new green grass, the new baby animals and the Easter holiday. Small birds and flowers can be great for your springtime mobile. Easter is very important to many people as well and can be a time to celebrate Jesus Christ through various symbols or Easter can be symbolized by the traditional egg and baby chick commonly associated with it. No matter what your objective is for making a mobile or how long you want it to last, you can do something creative that will be fun to make and fun to look at afterwards.