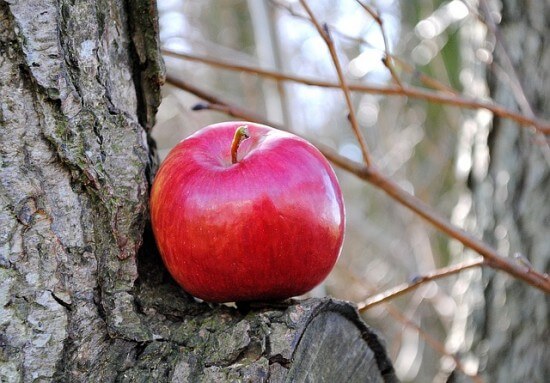 One of the best things about apple crafts is their versatility. You can create them as gifts or home décor decorations. Here are some great ideas on apple crafts that you can use as gifts.

Apple Candleholders

* Materials Needed:
Red apples
Candles
Lamb's ear leaves
Rosemary or your own choice of herbs
Apple corer
* Directions:
When choosing apples for this project, check your apples to make sure they sit flat and straight and are of an equal size.
Wash your apple then polish is with a soft cloth to make it shiny and clean.
Using the apple corer, remove the stem end of the apple to about 1½" down.
Then place two lamb's ear leaves and a small sprig of rosemary, or the herb of your choice, inside the hole you just made with the corer.
Anchor the herbs and the lamb's ears with a 4″ to 6″ candle, as these work best, though you can use longer candles.
Once you have anchored the herbs and lamb's ears, gently curl the lamb's ear over the apple with your fingers.

Clay Pot Apple

* Materials Needed:
3″ terra cotta clay pot
3″ terra cotta clay saucer
Small wooden spool
Fun foam
Paint
Clear acrylic sealer spray
Hot glue gun
 * Directions:
Wipe down your terra cotta pot and saucer with a damp cloth and then let it dry completely.
Paint both the terra cotta pot and saucer red and allow the paint to dry completely.
Paint a face on your clay pot. You can also use wiggly eyes instead of drawing in your eyes. Simply hot glue the eyes to the pot.
Paint the wooden spool green.
Allow the face and spool to dry completely.
Once the paint is dry, you need to spray it with the clear acrylic sealer and let that set.
Flip the saucer upside down and place it on top of the terra cotta pot.
Using the hot glue gun, glue the wooden spool to the bottom of the saucer.
Cut out a leaf shape from the fun foam and glue it to the wooden spool, this creates your stem and leaf for the apple.
Allow everything to dry and you are done.