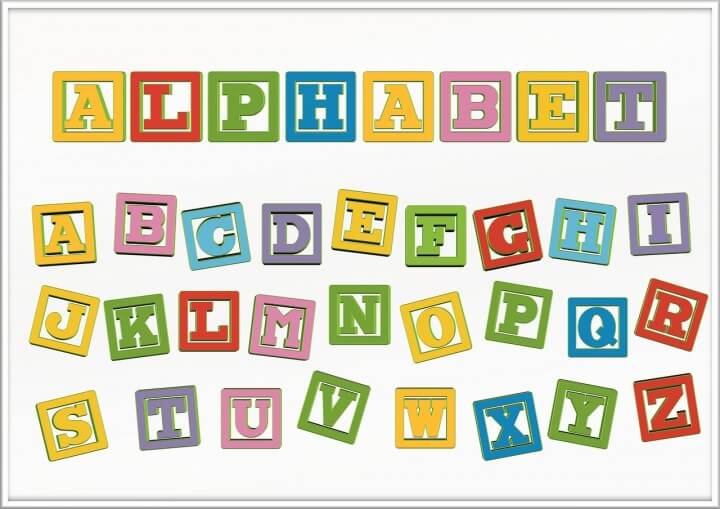 Here are some fast and easy alphabet crafts.

Alphabet Book

* Materials Needed:
Paper
Stapler
Crayons or markers
Magazines
Glue
* Directions:
The degree of difficulty associated with this project is entirely up to you but the basic idea is to create your own alphabet book, with one page per letter.
Write out or download the letters of the alphabet in large format.
Once you the letters, look for persons, places, things or ideas that start with each letter. You can clip pictures from a magazine or use actual objects found around the house or outside.
Now glue the pictures or objects onto the letter pages that they correspond with; for example, 'A' is for Apple. You can also label each picture so everybody knows what it is.
If you are really creative, write a story for each letter.
Allow the glue to dry thoroughly on each page.
Once the glue has dried, staple, tie or bind the pages together to form your book.
Finally, create front and back covers for the book along with a title page and a credits page.
Alphabet Lacing Cards

* Materials Needed:
Cardstock, various colors
Hole punch
Letter patterns
String, yarn, any other kind of lacing material
* Directions:
Either draw large letter patterns or download them from the internet. Tip: A great place to get the pattern for these letters is from alphabet coloring books.
Trace each letter pattern onto the various colored cardstock then cut out the letter along the outside lines.
Laminate the letters before use so that they last longer then punch holes in the letters.
Using string or yarn, tie a knot in one end, making sure that the knot is large enough that it will prevent the string from pulling through the hole.
Alphabet Noodle Bracelet

* Materials Needed:
Light weight cardboard, the kind from cereal boxes
Alphabet shaped noodles, uncooked
Glue
Hole puncher
Yarn
* Directions:
Cut out a piece of cardboard about ½ inch wide and just long enough to fit around your wrist.
Now punch a hole in each end of the cardboard.
Spell out your name, or any other word that you want, with the alphabet noodles.
Center your word on the cardboard strip then glue them in place.
Allow the glue to dry.
Paint your bracelet using acrylic or spray paints, if you like. If you use paint, apply thin coats and allow the paint to dry between coats. If you use acrylic paint, make sure to use a sealer, too.
Allow the paint and sealer to dry.
Cut a piece of yarn about six inches long and string each end through the holes on either end of your bracelet then tie the bracelet to fit your wrist.