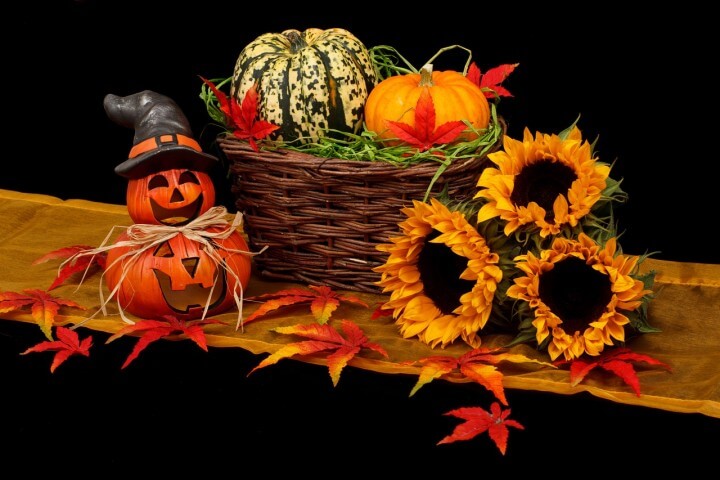 The fall season is a great time for many people to spend time with each other and to do things that really only come around once a year. Thanksgiving dinner is one of those things and the party that goes along with it takes a lot of time and planning to make it happen. So take full advantage of the opportunity to plan your Thanksgiving Day feast and send out invitations to your friends and family members that will be attending.
There are many different things that you can do for your party invitations, but some of the best ideas incorporate the colors and textures of the fall season. Here are some instructions on building a card with leaves you can find outside and some simple household items.
Gather all the supplies. You'll need to make sure that you have all your supplies for the project in advance. The base for the card will be a square piece of dark brown card stock. 5-6 inches is normally the best size and will allow you enough space to write all the things you need to on the invite. You'll also need four leaves to put on each card. You can use real leaves or silk leaves depending on your style and how you will be sending out the invites. You'll also need to have the information about the party printed or written on a smaller lighter piece of cardstock that will go in the center of the card.
Assemble the card. Take the leaves that you have collected and make sure that they are suitable for the card idea. Real leaves can become quite messy depending on how old they are and how brittle. Keep this in mind when you are preparing the invites because your guest could just get an envelope full of leaf dust and the invite instead of how you plan on sending it. One idea to preserve them is to coat them with aerosol hairspray and then let them dry. This will make them more flexible and also preserve the color and size of the leaves. Remove the stems from the leaves and then glue four on each card over the corners just peeking over the edge of the paper. Then take mulberry paper or other natural fiber paper and cut the edges in a jagged sort of way to make it have a more interesting texture and appeal. It's great to show the colors and textures of the fall season in your invites. Once you have glued this second piece of paper to the invite, all you have left to do is to attach the invitation portion and glue it all together. If you need to, you can place the whole card under a heavy book to make sure things dry flat and securely.
Send out the invites. Those who plan on coming to your Thanksgiving dinner probably know in advance that they will be coming because this is the type of event that people plan for a very long time in advance. But you should still send them the invite with plenty of time to respond. It's a good idea to get the invitations out between three weeks and a month before the holiday so you should be thinking about his around Halloween time. When you send out the invites you want to be sure and attach enough postage as these invites will likely be heavier than a normal letter and will need more than just one standard stamp to send.
Making your fall party invitations can be a lot of fun and the whole family can get involved if you would like. Take some creative liberties and have a good time making the invites. If you have a theme for the cards or for dinner, then you can carry over the theme to the actual dinner and make the whole thing come together.