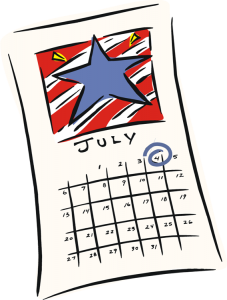 Welcome to July! It is now truly summer in the Northern Hemisphere. Your little one will enjoy running through the sprinklers, playing in the water, and perhaps also the joy of having older siblings out of school and available!
To celebrate the release of the family action adventure movie EARTH TO ECHO that opens in theaters on July 2, we are giving away a summer activity prize pack that includes:
* Nerf Super Soaker Arctic Shock Water Blaster
* Star Explosion Glow In The Dark Set
* Crayola 48 Count Sidewalk Chalk
* and much, much more!
Enter today and share the giveaway via Twitter and Facebook to earn extra entries.
Did you know that July is National Ice Cream Month?
Learn a few things about ice cream.
Play an online ice cream game.
Create an awesome Fourth of July ice cream cake together.
And of course we have some ice cream coloring pages!
Celebrate Koko the Gorilla's Birthday (July 4, 1971).
Who was Koko the Gorilla?
Connect the dots to find the monkey.
Can you find all the differences between these two monkey pictures?
Color some apes and monkeys!
Of course the major celebration in the US this month is Independence Day (July 4, 2014).
Try an Independence Day dot-to-dot puzzle.
Set off some online fireworks!
Fourth of July party games are always fun.
We have some great Fourth of July coloring pages, too.
Enjoy those long summer days with your little one, and we'll see you on the Net!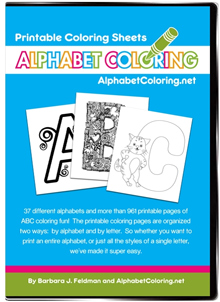 Alphabet Coloring – Printable Coloring Sheets
Fun alphabet coloring pages to print, color, and share! Print as many copies as you want. Great for teachers, parents, family get-togethers, long car rides and kids!
37 alphabets with more than 961 printable pages of ABC coloring on CD-ROM.
Organized two ways: by alphabet and by letter.
Print an entire alphabet, or print all the styles of a single letter.
Print as many copies as you want.
Easy-to-use PDF format.