Welcome to September! The summer has passed so quickly, and your little one has learned so many new things! Now it might be time to prepare for nursery school or even kindergarten. Maybe the older siblings are going back to school? So many changes as the leaves fall and time moves on.
Back-to-School can be fun for kids of all ages.
Back-to-School Fun: A collection of tips, printables, and back-to-school activities.
Back-to-School Coloring Pages: from Surfnetkids.com
School Jokes: from JokesByKids.com
One of America's most beloved children's authors is L. Frank Baum. His "Wonderful Wizard of Oz" was published on September 8, 1900.
Check out Surfnetkids' favorite Wizard of Oz sites.
Have fun with a Wizard of Oz slider.
Enjoy some Wizard of Oz coloring fun!
Arrr, matey! Everyone loves Talk Like a Pirate Day (September 19, 2014).
Learn something about real pirates (but not too much).
Build a pirate ship together!
Color some pirates in this interactive online coloring book.
Who doesn't appreciate elephants? Celebrate Elephant Appreciation Day (September 22, 2014).
Explore some of Surfnetkids' favorite elephant sites.
Tell some elephant jokes.
Try an elephant dot-to-dot puzzle.
Lots of elephants in our coloring pages!
Jews around the world celebrate Rosh Hashanah (September 25-26, 2014)
Learn about Rosh Hashanah.
Find some fun children's books about Rosh HaShanah.
Meet Rosh HaShanah Hannah! [VIDEO]
Enjoy some Rosh HaShanah coloring pages.
Enjoy this time of change and transition … your little one will grow up faster than you think! Don't miss a minute, and we will see you on the Net!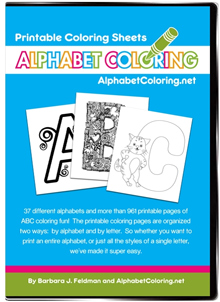 Alphabet Coloring – Printable Coloring Sheets
Fun alphabet coloring pages to print, color, and share! Print as many copies as you want. Great for teachers, parents, family get-togethers, long car rides and kids!
37 alphabets with more than 961 printable pages of ABC coloring on CD-ROM.
Organized two ways: by alphabet and by letter.
Print an entire alphabet, or print all the styles of a single letter.
Print as many copies as you want.
Easy-to-use PDF format.