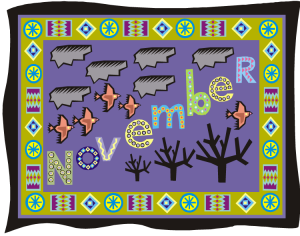 Welcome to November! As the days grow colder and shorter in the Northern Hemisphere, your little one will enjoy crafts and other indoor activities. the same may well be true if you are sweltering in the Southern Hemisphere's summer heat. But don't forget to go outside, too!
Did you know that Mickey Mouse first made his appearance on November 18, 1928?
Check out Barbara's favorite Disney resources.
Have fun doing this Mickey Mouse scrambler together!
It's been almost 150 years since the publication of Alice in Wonderland (November 26, 1865).
Some Alice in Wonderland resources.
Enjoy Jefferson Airplane's "White Rabbit" as an Alice video.
Don't forget the Alice in Wonderland coloring pages!
Of course, in the United States, the big November holiday is Thanksgiving (November 27, 2014).
Here are some of Barbara's favorite Thanksgiving craft sites.
Spot the differences between these two Thanksgiving pictures.
Enjoy our Thanksgiving coloring pages!
Time just keeps flying on … we are almost at the end of the year! Enjoy this time with your little one and we will see you on the 'Net!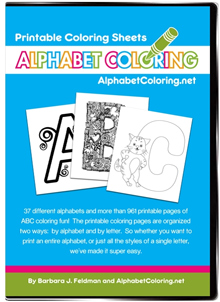 Alphabet Coloring – Printable Coloring Sheets
Fun alphabet coloring pages to print, color, and share! Print as many copies as you want. Great for teachers, parents, family get-togethers, long car rides and kids!
37 alphabets with more than 961 printable pages of ABC coloring on CD-ROM.
Organized two ways: by alphabet and by letter.
Print an entire alphabet, or print all the styles of a single letter.
Print as many copies as you want.
Easy-to-use PDF format.