Welcome to December! Another year has come and (almost) gone. Your little one has learned so much in this time! Playing outside can be a little trickier now if you live in a cold climate, but still so worth it. Don't you just love those rosy cheeks when they come in from playing in the snow?
December is a very busy time for families. It's a good thing to have some activities available!
For example, you could sit down and read The Story of Peter Rabbit, first published on December 16, 1901.
Does your little one love airplanes? The Wright Brothers' first flight took place on December 17, 1903. Some great pictures here!
Jews around the world celebrate Hanukkah, the Festival of Lights, on December 17 – 24 this year.
Learn some popular Hanukkah songs.
Have fun cooking together.
Read some Hanukkah books.
Enjoy some Hanukkah coloring pages!
Nobody who lives in the Western world can miss the big holiday of December, Christmas (December 25, 2014).
Need some toddler-friendly Christmas crafts?
Here are some helpful ideas for stocking stuffers.
Less stressful Christmas decorations!
Bake some cookies together.
For those quiet moments, don't forget our wonderful winter coloring pages.
Enjoy this busy season with your wide-eyed little one, and we'll see you on the Net!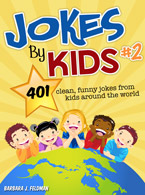 Jokes By Kids: Volume 2 includes 401+ clean, funny jokes from kids around the world. Now available in Kindle format. Don't have a Kindle? No problem! A free Kindle app can be downloaded for your computer, tablet, iPad, iPhone, Android or other smart phone. These jokes will be great fun for long car rides, the dinner table, the classroom, scout troops, birthday parties or anywhere family is gathering. And when you have Jokes By Kids: Volume 2 on your phone, you can whip it out whenever the occasion calls for a little laughter! Just $2.99 and available for instant download.