Welcome to December! Oh my goodness, here we are at the end of the year again already! Your little one has grown so much since January – there are so many things she can do now that you would never have thought possible. So much fun!
To start the month off with a little laughter (and in order to increase the number of reviews we have on Amazon.com) Jokes By Kids: Volume 2 (in Kindle format) is FREE for four days starting December 3. Grab your copy NOW before this promo ends.
In the Northern Hemisphere, winter has now hit us full force. In the northern regions, everything is covered in snow and ice and the days are short and dark.
The shortest day of the year in the Northern Hemisphere is the Winter Solstice (December 21, 2013). After this longest night, the sun begins to return!
Play a First Snow Dressup Game
Answer All Their Questions About Snow!
Enjoy Some Winter Coloring Pages
Looking for ideas to help make Christmas (December 25, 2013) special for your little one?
Decoration Ideas
Bake and Decorate Cookies Together
Toddler-Friendly Crafts
A Simple Christmas Star Dot-to-Dot Puzzle
Decorate a Reindeer Story!
Have a wonderful winter season and we'll see you on the Net!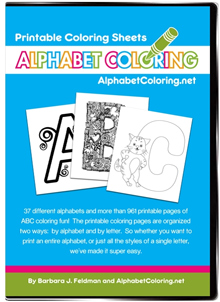 Alphabet Coloring – Printable Coloring Sheets
Fun alphabet coloring pages to print, color, and share! Print as many copies as you want. Great for teachers, parents, family get-togethers, long car rides and kids!
37 alphabets with more than 961 printable pages of ABC coloring on CD-ROM.
Organized two ways: by alphabet and by letter.
Print an entire alphabet, or print all the styles of a single letter.
Print as many copies as you want.
Easy-to-use PDF format.