Welcome to February! Your precious little one just keeps growing and learning new things – and February is a great time for honing those new skills.
Do you know a child that would love a prize pack from the newly released 3D animated movie The Nut Job? Take a moment and enter the newest Surfnetkids contest at: https://www.surfnetkids.com/prizes/. This contest is closing soon, so be sure to enter today!
Right now, the entry count is really low, so chances of being one of the two winners are still pretty good.
Here's the small print: we can only ship this prize pack to US address.
Good luck!
February begins with Groundhog Day (February 2, 2014).Will the groundhog see his shadow and give us six more weeks of winter?
See Barbara's favorite websites about Punxsutawney Phil
Color some adorable groundhogs
Try a Groundhog Day jigsaw puzzle!
This winter is special because our best athletes are going to Russia to compete in the XXII Winter Olympic Games in Sochi (February 6 to February 23, 2014).
Here are some printable coloring pages featuring the Sochi mascots and lots of winter sports.
A fun February holiday is Valentine's Day (February 14, 2014).
Enjoy some preschool-appropriate crafts
Color a princess and her knight in shining armor
Connect the dots for Valentine's fun!
Color some cupids and hearts!
An important holiday honoring United States Presidents is Presidents' Day (February 17, 2014).
Color the Presidential Seal
Color 'em all – from Washington to Obama!
Regardless of what Punxsutawney Phil has to say, spring will be here soon enough. Enjoy this time with your little one and we will see you on the Net!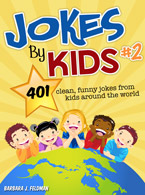 Jokes By Kids: Volume 2 includes 401+ clean, funny jokes from kids around the world. Now available in Kindle format. Don't have a Kindle? No problem! A free Kindle app can be downloaded for your computer, tablet, iPad, iPhone, Android or other smart phone. These jokes will be great fun for long car rides, the dinner table, the classroom, scout troops, birthday parties or anywhere family is gathering. And when you have Jokes By Kids: Volume 2 on your phone, you can whip it out whenever the occasion calls for a little laughter! Just $2.99 and available for instant download.