Welcome to March!
Welcome to March! The days are getting longer and warmer, spring is truly here! Your little one has grown and learned so much over the winter, it is time to go out into the sunshine!
Did you know that Silly Putty was introduced on March 1, 1950?
Learn how to make slime!
Enjoy some other arts and crafts.
Dr. Seuss' birthday (March 2) is celebrated each year as Read Across America. Here are some site recommendations for you and your preschooler.
Dr. Seuss
For some more March fun here are some coloring pages for Women's History Month.
Women's History Month coloring pages
Pi Day is celebrated on March 14 every year!
Whether you are Irish or not, enjoy St. Patrick's Day (March 17, 2017).
Play some St. Patrick's Day games
Create some St. Patrick's Day crafts
Color some leprechauns and shamrocks!
Believe it or not, there is such a thing as National Puppy Day (March 23, 2017).
Do a puppy dot-to-dot puzzle
Try your hand at puppy diving!
Color some puppies!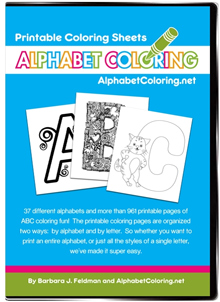 Alphabet Coloring – Printable Coloring Sheets
Fun alphabet coloring pages to print, color, and share! Print as many copies as you want. Great for teachers, parents, family get-togethers, long car rides and kids!
37 alphabets with more than 961 printable pages of ABC coloring on CD-ROM.
Organized two ways: by alphabet and by letter.
Print an entire alphabet, or print all the styles of a single letter.
Print as many copies as you want.
Easy-to-use PDF format.
Enjoy these lovely spring days with your little one, and we will see you on the Net!