Welcome to April! Spring is definitely here, and we know that April showers bring May flowers! Enjoy the lengthening days and increased warmth with your little one. There are also plenty of holidays to celebrate in the spring!
We start off the month with a blast of fun and pranks, on April Fools' Day (April 1, 2014).
Enjoy coloring April Fools' pictures!
Watch a video of kids telling jokes and babies laughing!
And did you know that April is National Frog Month?
Learn more about frogs and toads at these Surfnetkids recommended sites.
Color some frogs and toads here. Ribbit!
The first major holiday in April is Passover (April 14 – 22, 2014).
Passover coloring is always fun!
Can you count to ten? Then you can do this Journey to Freedom puzzle!
Giggle at a Shalom Sesame Passover video!
Next on the joyous spring calendar is Easter (April 20, 2014).
Make an Easter basket
Enjoy some Easter coloring!
Do some fun Easter bunny crafts!
Round off April with Earth Day (April 22, 2014).
We have awesome Earth Day coloring pages!
Trees are a very important part of our Earth – enjoy these tree-centred crafts.
Enjoy spring with your little person – you can see her growing before your very eyes!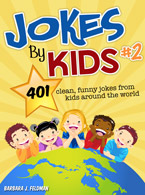 Jokes By Kids: Volume 2 includes 401+ clean, funny jokes from kids around the world. Now available in Kindle format. Don't have a Kindle? No problem! A free Kindle app can be downloaded for your computer, tablet, iPad, iPhone, Android or other smart phone. These jokes will be great fun for long car rides, the dinner table, the classroom, scout troops, birthday parties or anywhere family is gathering. And when you have Jokes By Kids: Volume 2 on your phone, you can whip it out whenever the occasion calls for a little laughter! Just $2.99 and available for instant download.