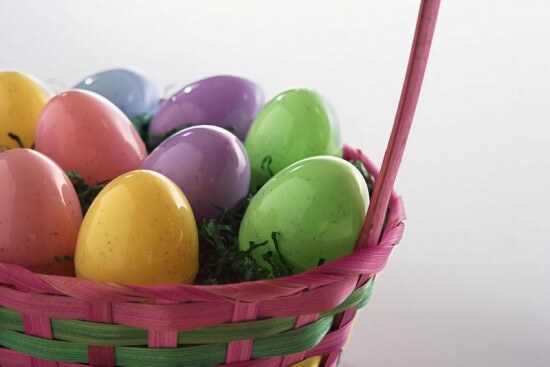 The Easter holiday is a great time for children as they are searching for eggs, rifling through Easter baskets, and eating massive amounts of candy. However, the meaning of Easter isn't lost in all of the playful activities, and certain musical selections offer up a great sampling of faith, admiration, and most importantly, love. Considering the amount of attention Christmas music generates, many forget that there are actually quite a few Easter songs that mark the Christian holiday and offer insight into its meaning, and the impact it has on the Christian community.
From service hymns to children's sing-alongs, there is quite a selection of Christian Easter classics. The common thread through all of the lyrics lies in the storytelling of the events that are celebrated by the Christian faith. By giving these famous worship songs a listen, you'll soon understand the true importance of Easter and the hope it brings to many.
"In Christ Alone" by Natalie Grant
Natalie Grant's rendition of "In Christ Alone" isn't the first time the tune has been belted, but due to the incredible instrumentation and her incredible vocals, this classic belongs in any Easter compilation.
"Were You There" by Selah
This incredible Easter classic features inspirational lyrics and a haunting a capella delivery. Selah has long delivered Christian classics to fans of the genre, and this song definitely doesn't disappoint. For those seeking memorable tunes, look no further.
"Jesus Christ is Risen Today, Alleluia!"
An Easter mainstay, this selection is often known as simply "Alleluia". Often perfect for large groups of people, the refrain is a single "Alleluia" which is separated by single lines telling the tale of Christ's crucifixion and resurrection. Inspirational and uplifting, this song is a celebrated Easter classic.
"Christ Arose"
This Easter hymn tells the story of Jesus Christ's triumph over death and the victorious blow struck to his foes. Often found in Easter Sunday masses and services, few Easters pass without the hearing of this popular hymn.
"He Lives"
Those looking to truly understand the Christian celebration of Easter can read these lyrics and get filled in quickly. Citing the resurrection and the hope that comes from such an event, "He Lives" shows the spirit of the Easter holiday, and its true meaning to the Christian faith.
All of these titles are traditional or contemporary takes on the Easter holiday. Music is a wonderful way to tell stories, and few facilities utilize this more than the Church. There is an abundance of children's songs that tell the resurrection tale as well, which can offer great teaching points for Christian families while maintaining the fun and lighthearted feel that kids long for on Easter Sunday.
When considering which Easter songs may be right for your event, ask yourself if the traditional hymns often found in services will be what you're after. If not, there are thousands of incredible contemporary titles to choose from, as the Christian music scene is always offering up new releases around the Easter season.