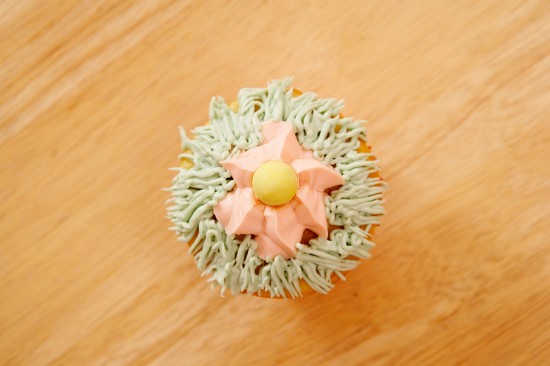 Cupcakes are all the rage right now, and that is never truer than when Easter rolls around. You may be wondering how you can duplicate those darling cupcakes you see in the bakery window and on cooking shows. The good news is that you don't have to be an experienced pastry chef to make that happen. These Easter Bunny Cupcakes are easy to do for even a novice baker. You will need to simply set aside some time, gather the right supplies, and then get ready to have some fun. This can also be a great activity to do with your kids in preparation for your Easter celebrations. Here are some Easter Bunny Cupcake recipes-
Easter-Bunny Cupcakes-No one will ever have to know who easy these delicious and darling cupcakes really are. This recipes yields: 24 cupcakes
Ingredients:
1 box (18 1/4-ounce) white cake mix, plus additional ingredients as                                     directed on package (except water)
1 cup(s) (or more, if batter appears dry) milk
1/2 teaspoon(s) vanilla extract
3 cup(s) fluffy white frosting
Assorted food coloring
6 large marshmallows
Pink decorating sugar
Small pink candies, such as jelly beans or Skittles
48 small blue candies, such as M&M Minis or chewable SweeTarts
Chocolate sprinkles
Directions for the recipe: Preheat your oven to 350 degrees F. Line 24 muffin tins with paper liners. Prepare the cake mix as directed for 24 cupcakes,  substituting milk for water and adding vanilla extract to batter. Bake and cool completely as directed. This can be done a day ahead of decorating them.  Spoon 2 cups frosting into a bowl and tint yellow, light blue, pale green or pink with food coloring (or make different colors). Frost your cupcakes.  Spoon a dollop of remaining white frosting onto center of each cupcake for bunny faces. To make ears: Cut each marshmallow in half crosswise with kitchen shears, then cut each piece in half diagonally to form 2 ears, flattening  slightly with your fingers. Press in pink decorating sugar. Stick 2 ears into each of white frosting mounds. Use pink candies to make noses, blue candies for eyes and chocolate sprinkles for whiskers.
Easter Bunny Cupcakes-This recipe does call for using a pastry bag. Keep in mind that though that you don't have to be an expert in piping to make them look great!
Ingredients
2 cans vanilla frosting (16 ounces each)
Green paste food coloring
Cupcakes and miniature cupcakes of your choice
Candy-coated sunflower kernels
Assorted stick chewing gum
Jumbo heart sprinkles
Canned chocolate frosting
Miniature marshmallows
Corn syrup
White nonpareils
Directions for the recipe: The first step is to tint the desired amount of frosting green. Cut a small hole in the corner of pastry or plastic bag; insert #4 round pastry tips. Fill the bag with green frosting; pipe grass onto desired amount of cupcakes. Sprinkle with sunflower kernels. For bunny faces, you will need to pipe white frosting over tops of cupcakes using a #4 round pastry tip. Using clean kitchen scissors or a small sharp knife, cut gum into ear shapes of various sizes. Attach smaller centers onto the larger pieces with a small amount of frosting. Pinch the base end of each ear, forming a curved shape. Press into tops of cupcakes. Place a heart sprinkle on each cupcake for nose.  Using a #2 round pastry tip, pipe eyes, whiskers and a mouth on each face with chocolate frosting. For 3-D bunnies, pipe white frosting over remaining cupcakes. Place a miniature cupcake onto a larger cupcake; secure with a toothpick. For a bunny tail, dip a marshmallow in corn syrup; roll in nonpareils. Place on cupcake.