Welcome to January! A new year begins, so much promise! Here we go.
The main holiday we celebrate in January is New Years' Day (January 1, 2014).
Where does our calendar come from?
Help this girl get ready for a New Years' party!
Can you find five differences between these New Years' pictures?
Did you know that the first snowflake photograph was taken by Wilson "Snowflake" Bentley on January 15, 1885?
Learn cool stuff about snow.
Take a snow quiz (harder than you think!)
How good are you at snowdrift racing?
An important day to observe is Martin Luther King, Jr. Day (January 20, 2014).
Who was Dr. King and why does he have a day named after him?
Dr. King was a great speaker. Color this picture of him.
Watch a video of his most famous speech.
Finally, the Chinese New Year is celebrated this year on January 31, 2014. It's the Year of the Horse!
Learn about the Chinese New Year.
Can you beat the clock with this Chinese New Year jigsaw puzzle?
Color a dragon for good luck!
If you live where it's cold right now, have fun in the snow and stay warm! If you don't, virtual snow will have to do. See you on the Net!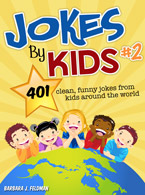 Jokes By Kids: Volume 2 includes 401+ clean, funny jokes from kids around the world. Now available in Kindle format. Don't have a Kindle? No problem! A free Kindle app can be downloaded for your computer, tablet, iPad, iPhone, Android or other smart phone. These jokes will be great fun for long car rides, the dinner table, the classroom, scout troops, birthday parties or anywhere family is gathering. And when you have Jokes By Kids: Volume 2 on your phone, you can whip it out whenever the occasion calls for a little laughter! Just $2.99 and available for instant download.