Welcome to May! Spring is finally here in the Northern Hemisphere, while the Southern Hemisphere greets the welcome relief of autumn. Snow is melting, flood preparations are underway, green is showing up everywhere. Spring!
May is National Flower Month (May, 2017).
Enjoy a flower garden game
Watch a video about edible flowers
Have fun with the field of flowers coloring page!
You don't have to be Mexican to enjoy Cinco de Mayo (May 5, 2017).
What is Cinco de Mayo anyway?
Try this Mexican flag jigsaw!
Create a virtual Mexican taco pie
How about some Cinco de Mayo coloring pages?
Get ready for Space Day (May 6, 2017)!
Why Space Day?
Spot the differences between these two space ships!
Try a stellar crossword puzzle.
These coloring pages are out of this world!
Who could forget Mother's Day (May 14, 2017)?
Mother's Day Coloring Pages
Where did Mother's Day come from?
Make some homemade gifts for Mom
Plan a Mother's Day brunch!
Don't forget to make a card!
More Mother's Day Resources:
Mother's Day Poems
Mother's Day Cards
All About Mother's Day
Edward Lear's birthday is celebrated as Limerick Day (May 12, 1812).
What is a limerick?
How do you make a limerick?
Create your own virtual poem!
Finally, the summer barbecue season officially starts with Memorial Day (May 29, 2017).
What is Memorial Day?
Try an American Flag word search!
Watch a video about Memorial Day (and Veterans' Day and Presidents' Day).
Enjoy some Memorial Day coloring pages!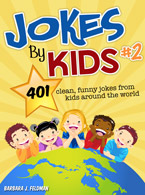 Jokes By Kids: Volume 2 includes 401+ clean, funny jokes from kids around the world. Now available in Kindle format. Don't have a Kindle? No problem! A free Kindle app can be downloaded for your computer, tablet, iPad, iPhone, Android or other smart phone. These jokes will be great fun for long car rides, the dinner table, the classroom, scout troops, birthday parties or anywhere family is gathering. And when you have Jokes By Kids: Volume 2 on your phone, you can whip it out whenever the occasion calls for a little laughter! Just $2.99 and available for instant download.