Welcome to November! If you are in the Northern Hemisphere, the leaves are falling fast and some places already have snow. If you are in the Southern Hemisphere, welcome to spring!
November starts off with the Day of the Dead (November 1-2, 2014). This joyous Mexican holiday celebrates the lives of deceased family and friends.
See Barbara's favorite Day of the Dead sites.
Put together a Mexican Flag jigsaw puzzle.
Watch a beautiful Dia de los Muertos video.
Enjoy our Day of the Dead coloring pages.
Did you know that the first humans started living on the International Space Station on November 2, 2000?
See Barbara's favorite links about the ISS.
Take this video tour of the ISS!
Put together a Space Shuttle jigsaw puzzle.
North Americans pause to honor their veterans on Veterans Day (November 11, 2014).
See Barbara's favorite Veterans Day sites.
Try an American flag jigsaw puzzle.
Color some American flags.
It's been 51 years since the assassination of President John F. Kennedy (November 22, 1963).
Learn more about this tragic day in United States history.
How much do you know about John F. Kennedy? Take this quiz.
In the United States, the big holiday in November is Thanksgiving (November 27, 2014).
What is Thanksgiving about?
Solve this pumpkin scrambler!
Try a Thanksgiving word search.
Enjoy our Thanksgiving coloring pages!
Count your blessings with family and friends and we will see you on the 'Net!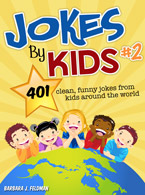 Jokes By Kids: Volume 2 includes 401+ clean, funny jokes from kids around the world. Now available in Kindle format. Don't have a Kindle? No problem! A free Kindle app can be downloaded for your computer, tablet, iPad, iPhone, Android or other smart phone. These jokes will be great fun for long car rides, the dinner table, the classroom, scout troops, birthday parties or anywhere family is gathering. And when you have Jokes By Kids: Volume 2 on your phone, you can whip it out whenever the occasion calls for a little laughter! Just $2.99 and available for instant download.